Pigs and Battleships (Buta to gunkan) (Hogs and Warships)
(1961)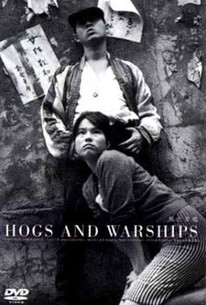 AUDIENCE SCORE
Critic Consensus: No consensus yet.
Movie Info
Long before he gained fame for winning the 1983 Cannes Golden Palm award for The Ballad of Narayama, director Shohei Imamura created this superbly crafted, sardonic drama about the yakuza (Japanese Mafia) and the modernization of Japan after World War II. Kinta (Hiroyuki Nagato) is caught in the mesh of poverty and opts out by joining the local yakuza gang. His greed draws him into the drug dealing, pimping, and racketeering that fill the gang's coffers. One day he is given the legit job of tending the pigs owned by his mob boss, who live on the slop thrown out by the neighborhood's American military base. Kinta's girlfriend begs him to go straight and settle down, but he can't see a future in it. As the final denouement nears, increasingly acerbic commentary, mixed with pointed symbolism, decries American treatment of Japan and the Japanese' own moral corruption. ~ Eleanor Mannikka, Rovi
Critic Reviews for Pigs and Battleships (Buta to gunkan) (Hogs and Warships)
All Critics (2) | Fresh (2) | Rotten (0)
That Pigs and Battleships has neither a traditionally happy nor sad ending is further evidence of Imamura's fascination with the lower aspects of human life.
not some dry anatomisation of Japan's post-war ills, but an energetic genre piece, full of rampant criminality and doomed romance, which remains rambunctiously entertaining from beginning to end.
June 20, 2011
Audience Reviews for Pigs and Battleships (Buta to gunkan) (Hogs and Warships)
My first film on the Yakuza. Imamura is great at capturing some memorable characters while playing on the tensions between the local Japanese and occupying Americans in the post war period.
John Ballantine
Super Reviewer
"Pigs and Battleships" is surprisingly entertaining and accessible, compared with other films of the Japanese New Wave. Lead actor Hiroyuki Nagato is such a marvel of hyperactive energy that I kept imagining an American remake starring Jerry Lewis. The setting is the seaside town of Yokosuka, where all the action centers on the interplay between locals and visiting American sailors. Director Shohei Imamura mixes location shoots and studio sets to create a chintzy, carnival-like atmosphere of flashing lights, narrow streets and tourist-trap shops. Prostitutes and organized crime also maneuver in the open, and the neighborhood Yakuza depends on pimping to help fund its larger enterprise: pig farming. This polluted blend of legal and illegal business is not so far from a similar scenario in Imamura's later film "The Pornographers." Nagato's ladder-climbing character is in charge of keeping the pigs fed, but he's a lightweight compared to the fearsome operators who employ him. He's in over his head, and his wary girlfriend Haruko knows it. Satire runs rampant, and so do the pigs -- the climactic stampede is an unforgettable image.
Eric Broome
Super Reviewer
imamura's early and provocative yakuza film makes a strong statement about japanese postwar society and particularly how the u.s. military presence affects the seaport town of yokosuka. imamura was in full rebellion against his master ozu at this point and the film so shocked nikkatsu studio heads he wasn't allowed another project for two years. while treating serious themes, the film is at the same time wildly entertaining, following the adventures of hapless low level gangster kinta and his more sensible girlfriend haruko, who tries to convince him to leave the life of crime behind for factory work before it's too late. a bit broadly played, it's nonetheless great fun to watch, displaying many trademarks of the director who would become a leading voice of the japanese new wave
Stella Dallas
Super Reviewer
Pigs and Battleships (Buta to gunkan) (Hogs and Warships) Quotes
There are no approved quotes yet for this movie.