Poultrygeist: Night of the Chicken Dead
(2006)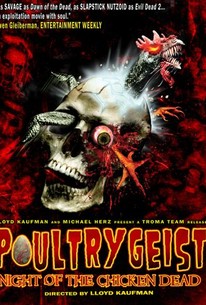 Poultrygeist: Night of the Chicken Dead Photos
Movie Info
For anyone who has ever felt genuine fear while pondering what's really in that oddly shaped chicken nugget they're about to consume, director Lloyd Kaufman offers a simultaneously horrific and hilarious parody of the zombie genre that takes on the one thing scarier than the flesh-eating legions of the undead -- America's love affair with fast food. Arbie (Jason Yachanin) is a nostalgic romantic with little luck in romance and a bad case of puppy love. When Arbie's high-school sweetheart, Wendy (Kate Graham), returns home after her first year of college, the lovelorn teen attempts to win the object of his affections back by taking her to the site of their first romantic encounter. Unfortunately for Arbie, the ancient Tromahawk Tribe Indian burial grounds have been bulldozed to make way for an American Chicken Bunker restaurant, and Wendy has turned into a left-wing lesbian with a penchant for protesting. Subsequently beaten to a pulp by Wendy's rough-and-tumble girlfriend, Micki (Allyson Sereboff), and in desperate need of a steady job, disgruntled Arbie applies at the Chicken Bunker despite the fact that Wendy and Micki have launched a tireless campaign against the restaurant. But something supernatural is stirring in this poultry paradise; the spirits of the dead are not pleased that their eternal slumber has been interrupted. As the employees of the American Chicken Bunker begin dying a series of increasingly gruesome deaths, restaurant owner General Lee Roy (Robin L. Watkins) does his best to cover up the scandal and keep his customers in the dark. Meanwhile, the restless demons of the Tromahawk tribe vow to take revenge on the fast-food-loving masses by infecting every last piece of genetically modified poultry that is served at the Chicken Bunker. Perhaps if Arbie can prevent their curse from reaching beyond the drive-through window, he can save the world from a fate worse than trans fat and finally win back the girl of his dreams. ~ Jason Buchanan, Rovi
People Who Like this movie also like
Critic Reviews for Poultrygeist: Night of the Chicken Dead
Audience Reviews for Poultrygeist: Night of the Chicken Dead
Excessively ridiculous and over the top, Poultrygeist is yet another crazy film by the folks at Troma. This is yet another tasteless film, but it does it so well that it's just a fun ride from start to finish. The jokes are extreme, and quite funny. Acting wise, this film is cringe worthy, but that's what makes these films so unique. Troma films are purposely awful, and they do it masterfully. If you love these types of horror comedies, then you're sure to enjoy this trash opus that Lloyd Kaufman has directed. The film has all the usual traits that make up for an effective film in the studios library. The film has insane amounts of gore, and offensive humor and it is so extreme that you cannot help but laugh at how this film plays out. Poultrygeist is one of the most disturbing films that I have seen, and I've seen quite a few films that are disturbing. However with this one, the boundaries of good taste are pushed to the limits and it offers a unique viewing experience that you won't soon forget. This film should appeal to gorehounds and to any Troma fan, however if you're not used to their films, definitely stay away from this one, as this one is definitely not a flick for viewers who have weak stomachs. As a whole this is a very good horror comedy that succeeds at being totally off the wall with its content. This is sure to appeal to cult film fans, and quite original despite the extreme lack of good taste.
½
I have to say one thing, THIS IS THE MOST MESSED UP FILM I'VE EVER SEEN IN MY ENTIRE LIFE! Troma is known for doing films like this, but this is there most screwed up film, the gore is off the wall, and is so gross that its almost vomit inducing, and some of it is played for comedy, but its not it's freaking gross. Now don't get me wrong there are several moments that made me laugh quite a bit, but thats just when they start killing the zombie chicken people, but the rest is just gross out nudity drive in trash. If you are in the mood for a grossout disgusting film for halloween, you may check this out, but I doubt you'll like it.
Michael Edwards
Super Reviewer
Very surprisingly I really enjoyed this one! I'm not a big lover of Troma or musicals for that matter but I loved the outrageously offensive tone the film had. Certainly not for the politically correct brigade - it's racist, homophobic, islamophobic, sexist - pretty much everyone ends up on the end of an offensive joke. And of course the OTT disgusting gore effects played a part in my enjoyment of the film, really quite gross stuff on offerbut all with a comical edge to it. And the songs are really quite funny too. Well done Mr. Kaufman, it's my favourite Troma film by far!
Poultrygeist: Night of the Chicken Dead Quotes
There are no approved quotes yet for this movie.