Prague (Prag)
(2006)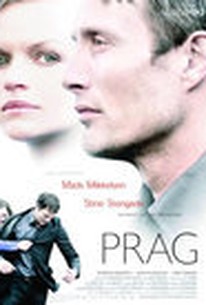 AUDIENCE SCORE
Critic Consensus: No consensus yet.
Prague (Prag) Photos
Movie Info
A slowly crumbling relationship begins to collapse while a man performs an unpleasant family errand in this drama from Danish filmmaker Ole Christian Madsen. Christoffer (Mads Mikkelsen) and Maja (Stine Stengade) have been married for nearly 15 years, but while on the surface they seem cordial, they've been slowly drifting apart for some time and their acrimony is beginning to rise to the surface. Christoffer and Maja are traveling from Denmark to Prague to collect the remains of Christoffer's late father; while strangers at every turn attempt to express sympathy for his loss, Christoffer himself still harbors deep resentment toward his dad and is not looking forward to bringing him home for burial in the family's plot. En route to Christoffer's father's house, Maja breaks the news that she's fallen for someone else and wants a divorce; taciturn Christoffer can't allow his anger to show while he settles affairs with Elena (Jana Plodkova) and the family's lawyer, though eventually his emotions finally come to a head. Prague received its North American premiere at the 2006 Toronto Film Festival. ~ Mark Deming, Rovi
Rating:
NR
Genre:
,
Directed By:
In Theaters:
Runtime:
Studio:
Watch it now
Critic Reviews for Prague (Prag)
All Critics (1) | Top Critics (1) | Fresh (1) | Rotten (0) | DVD (1)
Focusing in large part on faces, and fragments of faces, in the drama, Madsen uses the rigid countenance of Mikkelsen and the troubled beauty of Stengade -- both outstanding -- as windows to their turbulent souls.
Audience Reviews for Prague (Prag)
½
the film is accompained by a very moving score and an often captiavating cinematography. but alas, the drama becomes too serious for itself. the film does a great job at character development but instead of seeing any real change, ephinany or character reveresal, you're left pretty pissed off at the leads. christoffer, as well as maja, are cowards, afraid to fight for what they want, ready to settle for what's easier. christoffer doesn't want to save his marriage, he simply doesn't want his life to change, and that doesn't change in the end. he doesn't necessarily forgive his father but accepts that forgiving him or hating him simply changes nothing, almost an acceptance of an eternal sense of ennui about his life. (the final shot shows this as a metaphor for his acceptance of his own death, that's he's accepted being emotionless). perhaps i'm wrong and the truth is that he doesn't love maja, but it his halfass attempts to keep her only prove his fear of his life changing (which the film addresses) the constanst metaphor here is being lost in miscommunication (though Lost in Translation does a much better job at capturing this), and to attmept this, the film often attempts to reach it through brief shots at dark comedy but never quite gets it. if you're going to have actors attempt the "dead pan," pick ones that can actually pull it off. the film makes Prague seems so depressing (which i can understand, i took many lonely walks around those streets at night), but i guess it was a directors choice, but to achieve the mood they were going for they needed more people on the streets. walking up the steps towards the castle, there was one person on the steps other than the 2 leads, which i felt was an example of a bad choice. the streets should've been crowded, filled with happy people to emphaize the contrast of their desperation. perhaps it just boils down to being a film without a plot.
Josh Schabel
Slow..slow..slow. Well made. Great actors, but it almost put me to sleep a few times.
Cynthia S.
Super Reviewer
I was surprised I enjoyed this movie so much. I don't normally like love stories, but this one I admit had me crying. I guess because despite everything else, that's what it is - a love story. A REAL love story where things don't always turn out the way you want them to in the end and there aren't always happy endings.
Alicia T
Discussion Forum
Discuss Prague (Prag) on our Movie forum!
News & Features