Radio Free Albemuth
(2014)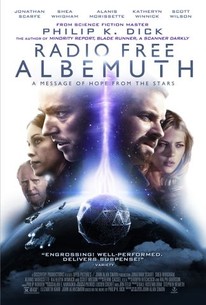 Radio Free Albemuth Videos
Radio Free Albemuth Photos
Movie Info
From sci-fi author Philip K. Dick (Blade Runner, Minority Report, A Scanner Darkly) comes his most personal and prophetic thriller to date. It's 1985 in an alternate reality and Berkeley record store clerk Nick Brady (Jonathan Scarfe, Perception) begins to experience strange visions transmitted from an extra-terrestrial source he calls VALIS. He uproots his family and moves to Los Angeles where he becomes a successful music executive with a secret mission to overthrow the oppressive government led by US President Fremont (Scott Wilson - The Walking Dead). With the help of his best friend, sci-fi writer, Philip K. Dick himself (Shea Whigham - Boardwalk Empire, American Hustle) and a beautiful, mysterious woman named Silvia (Alanis Morissette - Weeds), Nick finds himself drawn into a conspiracy of cosmic, mind-shattering proportions. Although it might cost them their freedom or even their lives, they join forces to expose the dangerous truth about the corrupt regime.(C) Freestyle
Rating:
R (for some language, drug use and brief violence)
Genre:
,
Directed By:
Written By:
In Theaters:
On DVD:
Runtime:
Studio:
Cast
News & Interviews for Radio Free Albemuth
Critic Reviews for Radio Free Albemuth
Audience Reviews for Radio Free Albemuth
½
A worthy project; the first, I think, that actually stems from an understanding of PKD. VALIS - Dick's masterpiece - would probably need to be a high budget production - but your film is a good argument for the producers of Radio Free Albemuth getting the nod for such a project. I have been following Philip K. Dick since the 1950s and was among the earliest to recognize that he rose far above the standard genre science fiction to mainstream surrealist novelist. There have been - since "Bladerunner" loosely based on "Do Androids Dream of Electric Sheep" - a good number of films and even TV series' based upon PKD's work - mostly his short stories and often missing PKD's point, but Radio Free Albemuth is based upon a complex novel, produced by professionals on a shoestring budget with full comprehension of what PKD was trying to say to the public. These folks should get the big budget necessary to do justice to Dick's masterpieces like VALIS or UBIK. They get the point and show the talent in this film.
Allen Greenfield
½
Insanely bizarre, Radio Free Albemuth is a sci-fi thriller based on a Philip K. Dick novel. The story follows a music producer who believes that he's receiving visions from an omnipotent entity which he calls VALIS; meanwhile America rapidly transforms into a fascist state that cracks down on subversives. The plot goes to some unbelievably strange places with aliens and alternative dimensions. And, the script doesn't do anything to make it seem any less weird than it sounds. Additionally, the acting and production values are incredibly bad, and do a poor job of bringing any believability to this mess. Yet there's something innately fascinating about the story and how it goes to new levels of crazy as it progresses. Though it's pretty far-out, Radio Free Albemuth provides a thought-provoking exploration of timely philosophical and political issues.
Dann Michalski
Super Reviewer
In an alternate-reality America, a music producer receives transmissions from a mysterious entity known as VALIS ("Vast Active Living Intelligence System") with advice for overthrowing the fascist President of the United States. This adaptation of Philip K. Dick's paranoid sci-fi novel sat on the shelf for four years. It has TV miniseries-level production values, but the bizarre plot retains some interest. Knowledge of Dick's backstory (he really believed in VALIS) is helpful.
Discussion Forum
Discuss Radio Free Albemuth on our Movie forum!
News & Features