Reclaiming the Blade
(2008)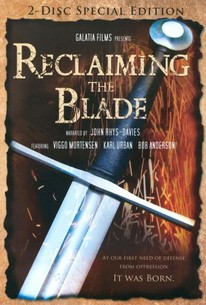 AUDIENCE SCORE
Critic Consensus: No consensus yet.
Reclaiming the Blade Videos
Reclaiming the Blade Photos
Movie Info
Filmmaker Daniel McNicoll explores the emerging movement to reclaim the ancient medieval and renaissance martial arts in this documentary narrated by Welsh actor John Rhys-Davies, and produced on corroboration with Lord of the Rings director Peter Jackson. The Medieval and Renaissance blade was a remarkable weapon crafted with the utmost attention to detail. Though the history of the sword remains largely shrouded in mystery for younger moviegoers, their presence on the big screen can still be felt in the Star Wars saga, as well as films like Chronicles of Narnia and The Pirates of the Caribbean. Join host Davies as he traces the history of this remarkable weapon throughout the ages, in the process giving us a better understanding of the sword's unique role in both history, and film.
Rating:
PG
Genre:
,
Directed By:
Written By:
In Theaters:
On DVD:
Runtime:
Studio:
Watch it now
Cast
Critic Reviews for Reclaiming the Blade
All Critics (2) | Fresh (1) | Rotten (1)

Whether it will change the way we view cinematic swordplay remains to be seen

Audience Reviews for Reclaiming the Blade
(***): Thumbs Up I wanted more from this documentary (it is too short in my opinion), but I was kept intrigued enough during it that I will slightly recommend it.
TTT C
I've seen them in countless movies, seen them on display in museums and even played with plastic versions of them when I was younger. But I never paid much attention to the history of the sword, and how much of a large part it has played in the shaping of cultures and of the history of our world. Daniel McNicoll's Reclaiming the Blade is a documentary that opened my eyes to something that deserves a little more respect. After all, these things aren't merely weapons for cool action heroes to slay enemies with in film. Reclaiming the Blade starts off a little troublesome, at least for me. The film focuses on the sword's usage in film, which was kind of nice. It was interesting to see how swordplay in film has evolved through the years. Seeing how sword fighting in the silent era was handled played against scenes of modern movie's take on sword fighting, it was interesting to see how what was considered exciting drastically changes through time. While I did admire a lot of this, the movie does spend a little more time than it needed to on swordplay in film. Once the movie shifts over to the actual history of the sword, Reclaiming the Blade picks up a lot. I never realized just how many different types of swords there are in the world and how many different histories there are to these various takes on this weapon. And with various professional swordsmen and historians to state their case, the film offers up a lot of information about the evolution of sword fighting and how certain sword cultures are viewed(who would have known that what is considered to be fencing today is looked down upon by a lot of sword aficionados?). Ultimately Reclaiming the Blade was a film that I really enjoyed, but it probably could have offered up a little more than it does. Still, the movie did open up my eyes to something that is extremely fascinating and has given me more respect for the sword. Whether it is a long sword or a samurai's blade, Reclaiming the Blade has changed my views on this subject.
Bryan Gomez
This doc is long overdue, and they did a fantastic job keeping thing even-toned and interesting. I loved the animation and the music! Usually, I shy from most docs in favor of something with some action and wit - this film has both 'and' it's a compelling look at the topic from ancient history through modern times. A+ for a doc, even in my anti-documentary book! I actually just signed up on here so I could give these guys some props! Cool movie!
Sam Spade
Discussion Forum
Discuss Reclaiming the Blade on our Movie forum!
News & Features