Red Lights
(2004)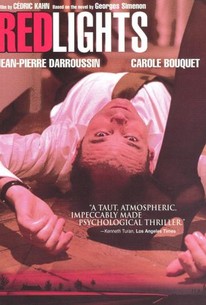 Movie Info
It's a summer holiday weekend in Paris and Antoine and Hélène are on their way to pick up their children at summer camp, thus joining thousands of other vacationers on the highways to the south of France. At first in high spirits, the couple starts sniping at each other during the drive as tensions in their relationship bubble to the surface. Frustrated by the freeway, Antoine takes a byway detour, much to Helene's displeasure, and then leaves her in the car as he stops for a drink. Once they're back on the road, their bickering escalates, with Antoine blaming Hélène for his drinking. Antoine then stops again to continue drinking at another tavern, although this time, Helene warns that she won't be there when he gets back. Still he defies her and goes into the bar, taking the car keys with him. He panics when he leaves the bar and discovers she has left. Believing that she has taken the train, he drives like a madman to the next station, but upon his arrival, the last train is mid-pulling out of the station. Driving away in a state of dread, he picks up a strange hitchhiker--not knowing he might have already crossed the path of his soon-to-be-missing wife.
Rating:
PG
Genre:
,
Directed By:
Written By:
In Theaters:
On DVD:
Box Office:
$515,992.00
Runtime:
Studio:
Critic Reviews for Red Lights
Audience Reviews for Red Lights
If you like to explore theories, you might wanna take this detour. I can only wish I'd avoided it. An utter disappointment, this friggin' (brilliant, for some; to each, their own) movie completely ruined my mood.
familiar stranger
Super Reviewer
½
Here' what you need to know: there's a wussy husband, played wonderfully by Jean-Pierre Darroussin. He's a boozy insurance salesman, with a domineering wife, played with icy brilliance by Carole Bouqet, a lawyer whose success he resents bitterly. They both drive out to Paris to retrieve their children from camp, during which they learn that a criminal has escaped from prison. She leaves the car, and he tries to find her. That's about all you need to know as far as premise, other than Darroussin is amazing and director Cedric Kahn crafts a spellbinding thriller out of Georges Simenon's novel. It's a knockout.
Manny Casillas
At 1st I wanted to turn the movie off because it seemed to go into an intellectual yet undesirable direction, that the end would be disastrous, as so often European movies are. However, the film does well in using the uneasy music of several sources, mostly Debussy (if I remember the piece correctly) and it does well in executing the story through "showing" rather than "telling", which something instructors tell you in fiction writing classes.
Jonathan Kirk
Red Lights Quotes
There are no approved quotes yet for this movie.
Discussion Forum
Discuss Red Lights on our Movie forum!