The Sailor Who Fell From Grace With the Sea
(1976)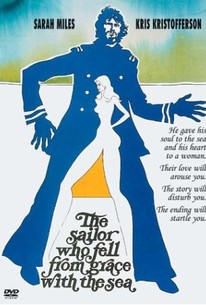 The Sailor Who Fell From Grace With the Sea Photos
Movie Info
A distraught youth is troubled by his mother's new relationship with her sailor boyfriend who occasionally drops by when his ship is in. The sailor (Kris Kristofferson) is a caring man who offers a supportive relationship to the woman as well as a kind word for the youth. In his confused and addled adolescent state (which isn't helped any by his association with a local perverted youth) the boy plans a vengeful rite for his mother's beau. ~ Rovi
Rating:
R
Genre:
,
Directed By:
Written By:
In Theaters:
On DVD:
Runtime:
Critic Reviews for The Sailor Who Fell From Grace With the Sea
Audience Reviews for The Sailor Who Fell From Grace With the Sea
½
difficult to watch, it takes too much time attempting to make the viewer feel at home, yet disturbed. the camera work at times tries to look as though it is a documentary, but not always at the right moments. some shots just linger far too long to serve any purpose. there is a good chance i would have given this a higher rating had the cut of the film been better. cut out shots lingering on the boys gaze and shortening the sex scenes to a minimum of the most intense parts would have worked better. the scenes of the boats and the sea would then be at odds with the sex and romance and it would be a visible experience that i think would help the story. i would have to say, that although this film left me with some strange feelings, it was at least an interesting voyage (to japan). :D heh heh.
NEMESIS D
½
Apparently this is unreleased on DVD as of yet, so the version I saw had awful sound editing and quality. Nevertheless, the photography of coastal scenery is thankfully intact. A very 70s feel in this odd drama, suffering from bad pacing and awkward softcore sex scenes. The themes of this film are still relevent though, in terms of generational gaps between defiant adolescents and adults. The one in this particular film, about precocious puberty enabling moral nihilism, is quite heavy and similar to The Lord of the Flies, except this film is more disturbing with its implications. This plot is cross cut by a romantic one where characters in need of a stationary figure fill each other's voids. And together, it makes the resolution a real shock. A film that stays with you when you finish it, and whose actors act well, but whose pacing can kill the film.
Richard Cranium
[b][size=3][u]Monday, October 2-Day Two[/u][/size] 6. The Sailor who Fell from Grace with the Sea. (1976)[/b] This is an adaption of an odd Japanese story (as I learned from an RT poster). It focuses on one kid in a group of others who are being negatively influenced by a bad kid with some very twisted views on the world. It's not a horror movie but has enough weird elements to warrant a viewing yearly at this time. Some of the acting is kind of weak but the strange material transcends that. Kris Kristopherson might've been a great actor had he stopped doing drugs. His look fits the part really well. Too bad he does some wooden here with the ability to display one or two emotions at best. The young actor doing the "bad kid" is also not worthy of the role. The rest of the cast is just fine though. I like Sarah Miles as the main kid's mom. I don't think I'll watch this VHS anymore. This is one great looking film and needs the extra definition of a DVD. It's on my list. 8/10 [img]http://images.rottentomatoes.com/images/user/smilies/fresh.gif[/img] [img]http://images.amazon.com/images/P/6304653395.01.LZZZZZZZ.jpg[/img] [b]7. Messiah of Evil (a.k.a. Dead People). (1974)[/b] Eery B-movie with a slow moving pace that's like a shark sneaking up on you. It has several scenes that follow this style. It may not suit some but I sure as hell like it. The male lead needed to be a little more "animated" but the 3 beautiful ladies in the cast do a great job as victims. Oops! Was that a spoiler? Heh, not really. :p This is sort of zombies who wait for the great Messiah from the title to return. I think the minimal makeup hells this since everything in the film, the people, the settings, all look "normal" and everyday. 7/10 [img]http://images.rottentomatoes.com/images/user/smilies/fresh.gif[/img] [img]http://i3.photobucket.com/albums/y65/radioman970/messiah.jpg[/img] [size=1]Don't worry honey, people alway arrive in riot-sized groups during the previews.[/size] [b]8. Earth VS the Spider. (1958) [/b] This is a fun Bert I. Gordon (a dude who did a lot of the old giant creature effects for drive-in flicks of the late 50s and creepy crawly feature. On it's own it's a watchable flick about a giant tarantula terrorising a small town. With the Mystery Science Theater 3000 gang... [img]http://i3.photobucket.com/albums/y65/radioman970/joelbots.jpg[/img] it's a classic episode. Truly hilarious and among my favorites of the series. I had a hard time staying awake during this. With last Friday, the weekend, and yesterday I simply ran out of gas. :( Luckily I was able to finish this and reluctantly hit the sack very early. 6/10 [img]http://images.rottentomatoes.com/images/user/smilies/fresh.gif[/img] (MST3K upgrade 10/10) [img]http://i3.photobucket.com/albums/y65/radioman970/EarthvsSpider.jpg[/img] [size=1]Just get a giant tissue and squash that sucker![/size]
James Perry
The Sailor Who Fell From Grace With the Sea Quotes
| | |
| --- | --- |
| Jonathan Osborne: | He's tampering with the perfection. It's wrong,dangerous. |
| | |
| --- | --- |
| Chief: | There's no such thing as a hero. Adults just pose as these things. |