The Sea Inside (Mar Adentro) (The Sea Within)
(2004)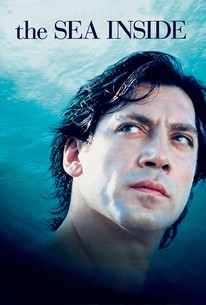 TOMATOMETER
AUDIENCE SCORE
Critic Consensus: Held aloft by a transfixing performance from Javier Bardem as a terminally ill man who chooses to die, The Sea Inside transcends its melodramatic story with tenderness and grace.
The Sea Inside (Mar Adentro) (The Sea Within) Photos
Movie Info
Two of the most talented figures in contemporary Spanish cinema -- actor Javier Bardem and director Alejandro Amenábar -- collaborate for this powerful drama, based on a true story. Ramón Sampedro (Javier Bardem) was a fisherman and part-time poet who, at the age of 26, suffered an accident while diving that left him a bedridden quadriplegic. Now 54, Ramón must depend on his family to survive -- his macho brother José (Celso Bugallo), José's wife, Manuela (Mabel Rivera), and their son, Javi (Tamar Novas). While grateful to his family and friends for their help, Ramón was always an active person, and as the years wore on, he has come to see his life as frustrating and pointless and wishes to die with what remains of his dignity. José, however, is bitterly opposed to the notion of assisted suicide, and Spanish laws would implicate anyone who helped Ramón end his own life, which is something Ramón does not want to do. Through Gené (Carla Segura), a friend who works with a "Right to Die" organization, Ramón is introduced to Julia (Belen Rueda), a lawyer he hopes will help him persuade the courts to let him end his own life. Julia is dealing with her own mortality issues since being diagnosed with a degenerative disease, and Ramón hopes her condition will make her arguments more persuasive. As Ramón and Julia work together on his case and help to prepare a book of his poems for publication, Ramón finds himself falling in love with his attorney, who happens to be married, but while his infatuation gives Julia second thoughts about the case, Ramón remains convinced that the greatest gift to him would be an end to his life. Javier Bardem's performance in The Sea Inside (aka Mar Adentro) earned him the Best Actor award at the 2004 Venice Film Festival.
News & Interviews for The Sea Inside (Mar Adentro) (The Sea Within)
Critic Reviews for The Sea Inside (Mar Adentro) (The Sea Within)
Audience Reviews for The Sea Inside (Mar Adentro) (The Sea Within)
For some reason, a cinematic trend exists where there are multiple films based on true stories about people confined to beds or other limiting situations, and their inspiring stories of overcoming their predicaments. There's The Diving Bell and the Butterfly which looked at locked-in syndrome, and the dude learning to communicate solely by blinking; with The Sessions, a bed-ridden poet crippled by polio fights to lose his virginity, and, then there is this film, which looks at the nearly thirty year struggle of Ramon Sampedro to fight for his right to die with dignity after being paralyzed thanks to a diving accident. For all I know, there could be more of these films. And of these three, this one is probably my least favorite. Don't get me wrong, this is a good movie, and I really enjoyed it, but I found it to be somewhat underwhelming, and a bit hard to get invested in, or at least compared to the other two I mentioned. I did like though, that even though the film tackles a controversial subject (euthanasia), Ramon is selfish about it in that he's fighting only for HIS personal right to die with dignity instead of becoming the champion for a cause. Well, I mean, his efforts could be looked at as the basis for a larger campaign, but it's basically just a personal crusade. The argument for both sides of the issue is addressed, and even some of Ramon's family and close associates don't necessarily agree with him, yet they still look out for him and help care for him, and that's really something. There are some moments that are truly visually striking, but, unlike The Diving Bell and the Butterfly, this one is less focused on innovative ways to portray the situation, and is primarily a showcase for acting. And this is where the film is the strongest. Javier Bardem gives easily one of his best performances as Ramon. He spends most of the time in old man makeup and in a bed, but that's no easy task as he's not really able to move on his own besides his head and face a little bit. It's definitely a strong and inspiring performance, but the supporting cast are also quite strong, though this is clearly Bardem's film. Given the subject matter, you'd think this would be a pretty heavy and serious film, and yeah, for the most part it is. However, it's not completely depressing, and there's a fair amount of humor, which surprised me. Of course, someone in Ramon's situation probably needs to develop some sort of sense of humor to cope, so I shouldn't be that surprised. But still, it was unexpected just how wickedly (and morbidly) funny this guy is. The film is slightly preachy, but overall let's the viewer decide for themselves what is supposedly right or wrong. Granted, the film does ultimately take a side, but that's not really the point. This is primarily a personal journey, and a reflection of trying to make the most of life despite certain circumstances, even if that means spending that time trying to die because that's what personally seems like the best course of action. Recommended.
Chris Weber
Super Reviewer
Heart-wrenching to watch.
½
A very interesting topic is not served well in this overwrought dull drama. I love films that question morality and humanity. However, I don't want a bunch of people arriving and just discussion their feelings/emotions. If that's the case, a documentary would have been much more fitting. Bardem's performance is a thing of beauty, and the main recipient of the the 2 and a half stars I give it. Obviously, due to his condition, he isn't going to get out and about. In saying that, the most memorable moments are those out of the bedroom. The accident, the imaginary flying, the courtroom scenes etc. In one way it emphasized his desire to die, and how his life was kept in this one room, but it didn't make an interesting film.
Luke Baldock
Super Reviewer
The Sea Inside (Mar Adentro) (The Sea Within) Quotes
| | |
| --- | --- |
| Ramón Sampedro: | "True love means to let me go". |
| Ramón Sampedro: | True love means to let me go. |