Shadrach
(1998)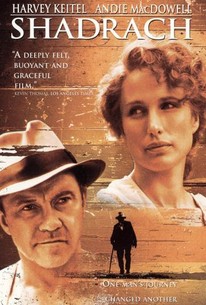 Movie Info
In 1935, Paul leaves his mundane middle-class life to become friends with the lower-class Dabney's, once aristocratic plantation owners. When 99-year-old former slave Shadrach shows up after walking from Alabama to Virginia, he requests that his burial be on Virginia soil, a request that stirs racist attitudes.
Rating:
PG-13 (adult situations/language, sex)
Genre:
Directed By:
Written By:
In Theaters:
On DVD:
Runtime:
Studio:
Sony Pictures Home Entertainment
Critic Reviews for Shadrach
Audience Reviews for Shadrach
½
This is a very good movie. One complaint: Harvey Keitel's character cusses a LOT, and he uses the n-word a lot. Since I saw this on network TV, both were edited -- but the n-word was certainly edited (pronounced "nigreh") for the original film, not just for TV, and frankly I suspect much of his cussing was as well. I really hate this stuff; it's stupid and unrealistic. The movie would have been ever so much more powerful if that character had been permitted to speak as a poor moonshiner of the Great Depression actually would have spoken. If you have the hots for Andie McDowell -- and who doesn't? -- this film will come as a bit of a shock. Not a typical role for her. And she performs it brilliantly.
Kirby Palm
½
Paul, an only child, loves visiting the Dabney family. The Dabneys have seven children, and they're a much poorer family. During Paul's tenth summer, set in the 1930s, a family member he never even met passes away, and he goes to stay with the Dabneys while his parents go off to the funeral. That's when he meets Shadrach, a 99-year-old black man that was born a slave and was sold off to Alabama, being separated from his family in Virginia. He's been gone all these years. Sensing death in his old bones, he travels back to his native Virginia, wanting to be put to rest where he belongs. Shadrach happens to be a Dabney, just like the white family he came to. Will this family be nice enough to do for him what he wants to be done? What will happen along the way? "Shadrach" is a heartwarming and extremely realistic film. Being raised in Alabama, I can relate to the underlying plot of the film a lot. One thing that's really shocking is that Paul looks almost just like my little brother, making me kind of watch the movie as if it was through my younger sibling's eyes. Both of those facts along with the great acting by everybody, especially Harvey Keitel, made "Shadrach" really hit home for me in a way. Not to mention that it reminds me of my own childhood, when I was looked at as being middle to upper class, but almost all of my friends were less fortunate, and I never thought a thing about it. It's a shame that "Shadrach" seems to be relatively unknown. It's just a simple drama movie with elements of a coming of age film, but it's a real good one that will hit home for certain people, maybe in more than one way. All I did was rent it after hearing that it's "a good southern movie." I'm glad I did, because now I look to purchase it one day in the future. As long as the cussing nearly every other word doesn't bother you (it shouldn't; that's just the film trying to be realistic of the times), you'll love "Shadrach". NOTE: That was my Amazon review from the year 2003. One of the most underrated movies I know of, for sure. I always love a good drama and this one delivered in every way. All the actors do a great job and if you don't mind a good tear-jerker, this is a must see. Guess it receives a few extra brownie points cause the main kid actor looks JUST LIKE my little brother looked at that age.
Jason Owens
Super Reviewer
Moving story of a former slave who returns to his old home. A well made film that really should be better known.
Thomas Neil
Shadrach Quotes
There are no approved quotes yet for this movie.