Still Breathing
(1998)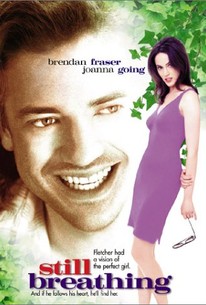 Movie Info
This romantic fantasy from writer, director, and producer James F. Robinson, stars Brendan Fraser as Fletcher McBracken, a starry-eyed San Antonio puppeteer who, like his father and grandfather before him, has a mystical vision of the woman he's fated to marry. Believing that she'll be found in "Formosa" (the one-time name of Taiwan), Fletcher books a flight. During a stopover in L.A., however, he learns of a trendy bar called Formosa and decides to check it out. Sure enough, Fletcher sees his dream girl, Rosalyn Willoughby (Joanna Going), a con artist on the lookout for a new mark, a millionaire from Texas. Assuming that Fletcher is the man she's supposed to bilk, Rosalyn accompanies him to San Antonio, where she meets his tuba-playing grandmother (Celeste Holm) and his eccentric friends, including the Tree Man (Lou Rawls). Charmed against her will by Fletcher, Rosalyn considers a real romance with the daffy artist, but each of them has some revelations to make before a real relationship can begin.
Critic Reviews for Still Breathing
Audience Reviews for Still Breathing
Saying this film is formulaic is an insult to bad formulas everywhere. I would say it was predictable, but it wasn't because I figured no movie could possibly be that unimaginative. It was. The only thing worse than the dreadful script of "Still Breathing" was the utter lack of chemistry between the two lead actors. That's 2 hours of my life I'll never get back.
Toggo Ultrarock
Leigh Ryan
Super Reviewer
Still Breathing Quotes
There are no approved quotes yet for this movie.
Discussion Forum
Discuss Still Breathing on our Movie forum!