The Assault
(2012)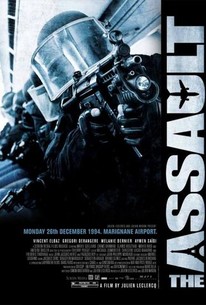 Movie Info
On December 24, 1994, when four heavily armed terrorists from the Algerian Armed Islamic Group hijacked an Air France plane bound for Paris at Algiers' airport, the 227 passengers on board seemed destined for tragedy. After hours of tireless negotiations the plane was granted permission to leave only to head to Marseille for refueling. Mindfully avoiding politics and emphasizing only the events themselves, The Assault weaves together the violent and claustrophobic onboard drama, with backstories of the tough SWAT officer and father Thierry (Vincent Elbaz), the determined jihadist from the slums of Algiers (Aymen Saidi), and an overly ambitious French Interior Ministry worker. -- (C) Screen Media
News & Interviews for The Assault
Critic Reviews for The Assault
Audience Reviews for The Assault
Genuinely surprised by the lack of enthusiasm for this fantastic film. It deserves a lot of love for the way it crafts a tense but realistic thriller. SOmething of a different Christmas movie for me, this recounts the true events of Christmas Eve - Boxing Day 1994, as armed Algerian terrorists take over a plane. We weave in and out of the different facets that must deal with the crisis including those on the plane, the government, and the tactics team that will eventually have to take them down. The film is shot with urgency and perfectly recreates the feeling of dread and despair. Best of all is the historical for this film. People laugh and ignore the woman who believes this to be a suicide mission. Something we most certainly would make our first guess in this day and age. The action is incredible, considering it takes place in such a small space. The climax is repetitive in an invigorating way, as the terrorists and police trade shots without busting out into action heroics. I was completely engrossed by this little gem, which I may make a Christmas regular.
Luke Baldock
Super Reviewer
It is a little difficult to watch a film like L'Assault and not feel a knot in your stomach. Here is a film about the 1994 Christmas hijacking of Air France Flight 8969 by Middle Eastern terrorist in an attempt (French Intellegence said) to take over the plane and fly it into The Eiffel Tower. Their plan was thwarted by deliberate delays by Air Traffic Control that allowed the GIGA (the French equivalent of the S.W.A.T. team) to move in. The knot in our stomachs come from the fact that this is such a current and all-too-real situation that plays in our minds a decade after the events of September 11th. Even if you know how these events played out, the tension that the film creates is present and very effective. Shot in bleached-out colors with a hand-held camera, French director Julien Leclercq keeps his film spare on personal details. He walks a very fine line between sticking to the facts and turning the material into an action picture. He mixes two elements very well, so that the material never feels overblown or exploitive. He knows very well how to draw tension from his viewer. The opening scenes are the most effective as we watch the terrorists preparing for their mission, praying, gathering their weapons and their explosives, and trying to keep their minds on their task. We follow the terrorists all the way from their meeting point to the plane where they pose as agents before being discovered by one very observant passenger. That's when all Hell breaks loose. We've seen those scenes before with all the shouting, threats, demands and cowering passengers, but what makes the scene work is that there is real fear coming from the terrorists themselves. Leclercq's camera often gets very close to their eyes so that we can see that while they are focused on their task, they are still scared out of their minds. The focal point on the terrorist side rests with an angry young fellow named Yahia (Aymen Saïdi), the leader whose anger and frustration at not getting what he wants (there's a long bit of business about the fact that the plane can't take off because no one will move the stairs) makes him effective and very scary. One thing that I didn't expect was a heart-wrenching development late in the film when someone very close to him begs him to reconsider this whole terrorist plot. Films like this rarely give the terrorist a human dimension. Parallel to the scenes of the terrorist plot is another story, that of a GIGA member named Thierry (Vincent Elbaz) whose wife is terrified when he goes out on a job. We don't get to know him or his family in great detaill, but their story plays as an emotional center to what is going on from the side of the French. We know all we need to know. He's on the job. She's afraid for him. We don't need much more exposition than that. That's the most effective element of the film. It plays out in reality without slowing down for character development. You don't need it. All we need are the facts at hand. This element of the film is smart on the part of the director because since we know how the story concludes, Thierry's story adds a suspenseful, and unexpected element. The movie has a slow build-up to the final assault by the GIGA and, unlike most action pictures, earns its ending. Leclercq does a very good job of staging the action scenes in a confined space with no heroics in sight. This works especially well if you don't already know how it turned out. What he has for us at the end is quite unexpected. L'Assault is, I'm afraid, is going to inevitably draw comparison to Paul Greengrass' United 93. His was the better film - I chose it as my favorite film of 2006. It works more efficiently because of its spareness and because of our heavy emotional investment in the events of September 11th. I don't know as much about the events in L'Assault. That doesn't make them any less significant, but it makes the emotional weight just a little lighter. Comparing the two is really not fair anyway. The success of United 93 lay in its cold, straight-ahead vision. L'Assault is a little more cinematic and develops characters, both good and bad just enough so that we are invested in what is happening because they are people that we understand a little bit about. We know the events that took place. We know how they turned out. What is frightening is that even when the terrorists fail, we know with dread, that they'll be back.
Jerry Roberts
Discussion Forum
Discuss The Assault on our Movie forum!