The Awful Dr. Orloff (Gritos en la noche)
(1964)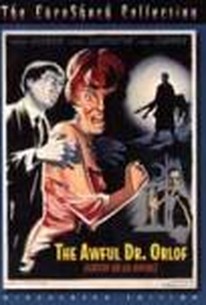 AUDIENCE SCORE
Critic Consensus: No consensus yet.
The Awful Dr. Orloff (Gritos en la noche) Photos
Movie Info
Cult director Jesus Franco had his greatest popular success with this horrific variation on George Franju's classic Les Yeux sans Visage. Set in 1912, the film concerns the efforts of mad surgeon Dr. Orloff (Howard Vernon) to reconstruct the face of his disfigured daughter Melissa (Diana Lorys). Helped by a freakish assistant named Morpho (Ricardo Valle), Orlof kidnaps several women including Dany (Maria Silva), a cabaret singer whose forgotten necklace is the clue which leads dedicated Inspector Edgar Tanner (Conrado San Martin) onto Orlof's trail. Using girlfriend Wanda Bronsky (also played by Lorys) as an undercover spy, Tanner lures Orlof into a trap, but the risks are greater than he imagines. Stock performers Perla Cristal, Mara Lasso, Venancio Muro, Felix Dafauce, and Juan Riquelme fill out the cast, while Franco himself appears as a pianist. Several versions exist, differing primarily in the amount of sex and violence depicted. One nude murder scene was later used in Pierre Chevalier's Caroline Mannequin Nue. Franco made the first of several sequels, El Secreto del Dr. Orloff in 1964. ~ Robert Firsching, Rovi
Critic Reviews for The Awful Dr. Orloff (Gritos en la noche)
Audience Reviews for The Awful Dr. Orloff (Gritos en la noche)
The Awful Dr. Orloff" was the film that put Jess Franco on the map in the field of trashy exploitation cinema. Hes been a legend since, turning out hundreds of films. Admittedly, this isn't an original plot at all. A quick scan of the film's summary shows it rips off the key plot elements to "Eyes Without a Face". However, "The Awful Dr. Orlof" is one of the best imitation films ever made. It doesn't have the artistic beauty that "Eyes Without a Face" had, but its a much more sordid tale overall and plays the material to a hilt. Its also a constantly compelling story that remains frightening throughout, with plenty of gloomy and fog-drenched Gothic atmosphere. On a technical level, the film is average. Howard Vernon is quite good as the title mad doctor, but the rest of the cast is pretty poor. The inspector character is completely uninteresting and Conrado San Martín in no way rises above the material. Diana Lorys is positively gorgeous but not that much of an actress. The direction by Franco is good and probably his most quickly paced, but far from his most interesting. Fortunately, the cinematography and jazz score are great, and there are several sequences that retain the ability to jolt the audience. Plus, unlike the director's later work, there is a story to speak of here. "The Awful Dr. Orlof" isn't Franco's best film but it may be his most accessible. 3 Stars 1-28-14
Bruce Bruce
Super Reviewer
The Awful Dr. Orloff (Gritos en la noche) Quotes
There are no approved quotes yet for this movie.