The Book of Henry
(2017)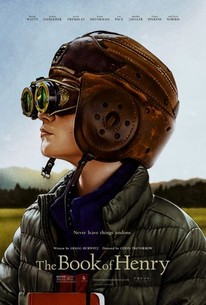 TOMATOMETER
AUDIENCE SCORE
Critic Consensus: The Book of Henry deserves a few points for ambition, but its tonal juggling act -- and a deeply maudlin twist -- may leave viewers gaping in disbelief rather than choking back tears.
Movie Info
Sometimes things are not always what they seem, especially in the small suburban town where the Carpenter family lives. Single suburban mother Susan Carpenter (Naomi Watts) works as a waitress at a diner, alongside feisty family friend Sheila (Sarah Silverman). Her younger son Peter (Jacob Tremblay) is a playful 8-year-old. Taking care of everyone and everything in his own unique way is Susan's older son Henry (Jaeden Lieberher), age 11. Protector to his adoring younger brother and tireless supporter of his often self-doubting mother - and, through investments, of the family as a whole - Henry blazes through the days like a comet. Susan discovers that the family next door, which includes Henry's kind classmate Christina (Maddie Ziegler), has a dangerous secret - and that Henry has devised a surprising plan to help. As his brainstormed rescue plan for Christina takes shape in thrilling ways, Susan finds herself at the center of it.
News & Interviews for The Book of Henry
Critic Reviews for The Book of Henry
Audience Reviews for The Book of Henry
½
Not enough filmmakers take risks nowadays, and to be quite honest, I found myself in awe at the originality that The Book of Henry delivered. That being said, this film isn't for everyone, and I mean that very strongly. Every years there's usually a film that will come along, being completely misunderstood and I believe this film is 2017's mixed bag that everyone will reflect back on. Due to its gutsy nature, I can't see it winning many awards. Director Colin Trevorrow has chosen a screenplay that he believes will move audience in ways that they haven't been moved before. Tat will definitely be the case with some, but the fact that this film feels like three different movies rather than three complete acts will definitely be jarring to the average moviegoer. Here is why I believe The Book of Henry can be loved if you have the right mindset going in. This is a very hard film to explain without giving away the plot twists, so I will keep this brief. The first act of this film follows an extremely smart 11-year-old boy in Henry, who helps take care of his mother and younger brother. Too smart for his own good, he clearly has an insanely bright future ahead of him. With the addition of an odd neighbour, there are a few questions that need answering throughout the film. Once the first act concludes, this film very quickly turns into another film entirely, shifting its tone. All I have to warn you about is the fact that you should be ready for anything. This film takes large leaps in very short amounts of time. By the third act you will almost feel like you are watching a completely different movie, but that worked for me for the most part. Throughout each act transition, this film asks you to believe in it, so it was imperative that the performances could sell the tonal shifts. When it comes to child actors, performances always teeter on the scale of believability in my opinion. It's very rare that a child's performances blows me away. Say for E.T., Room, and even Super 8, very few others have impressed me in that regard. Sure, there are others out there, but most kids just don't have the experience that the majority of adult actors have. The reason I mentioned the film Room, is because Jacob Tremblay is a very prominent part of this film as well and he once again shows his range. Although there are a few questionable story choices throughout this film, his performance brought me to tears on multiple occasions. Mark my words, he will one day be remembered as one of the greatest child actors of all time. With the addition of the terrific performances by Jaeden Lieberher and Naomi Watts, I was completely engaged in these characters, which I feel is all thanks to director Colin Trevorrow. After directing Jurassic World, Colin Trevorrow definitely made a name for himself in terms of being able to handle kids on-screen. His work here seems to be even more devoted to the project, as not a single performer feels out of place or not delivering their all. He is definitely an actor/actresses director and it shows here tenfold. I can't wait to see more from him in the future, as he has definitely proven himself over the past few years. His choices throughout this film are ballsy ones and I can only commend him on those aspects. I found myself entranced in certain scenes and I honestly couldn't picture another director at the helm for this project. In the end, The Book of Henry is a film that breaks almost every rule in the screenplay writing handbook, it's extremely unconventional, it takes quite a few turns into dark territory, and the end result is a very solid film if you are willing to adapt to certain films. There were many time throughout this film that had me scratching my head or in awe at how gutsy the film was becoming, but then I reflected on it as a whole and realized that it was all done with class and care. The surprises throughout this film, whether happy or sad, were well-worth the price of admission, because it's very different from the rest of the films that hit theatres lately. There isn't any way this will be an award-winning film, but it does what it sets out to do flawlessly. If you are a person who criticizes a film for being different, than your entire experience with this film will be flawed. I will admit this film is far from perfect and it does become a little sloppy, but I thoroughly enjoyed my experience of The Book of Henry. For these reasons, I would like to recommend this film to most audiences, as long as they go in with a very open mind.
The Book of Henry Quotes
There are no approved quotes yet for this movie.
Discussion Forum
Discuss The Book of Henry on our Movie forum!