The End of Love
(2013)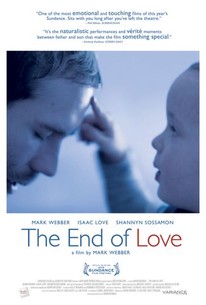 The End of Love Videos
The End of Love Photos
Movie Info
THE END OF LOVE tells the story of struggling actor, Mark (played by writer/director Mark Webber), who is forced to grapple with his inability to grow up when the mother of his two-year-old son Isaac suddenly passes away. As he kindles a relationship with a young single mother (Shannyn Sossamon, 40 Days and 40 Nights), he begins to realize that he can no longer remain in denial about the real-life consequences his choices have on Isaac (played by Isaac Love, Webber's real-life son). The End of Love is an intimate and stunningly honest portrait of a young father in transition between the life he's been working for and the one that's waiting for him.(c) Official Site
Rating:
PG
Genre:
Directed By:
Written By:
In Theaters:
On DVD:
Runtime:
Studio:
Cast
News & Interviews for The End of Love
Critic Reviews for The End of Love
Audience Reviews for The End of Love
½
This was a touching movie, though hard to follow. I think that the acting by the child is quite exceptional. Father and son story just on a different scale.
Jarrin Rozenblad
Super Reviewer
This movie was alright, but sort of confusing to me. He is a struggling actor, but he gets invited to Michael Cera's party with famous people like Aubrey Plaza and Alia Shawkat... What?? The kid was cute and it showed me how annoying children can be, and we still love them. I guess that is what made this movie 3 stars instead of one. Also............... RIP goldfish. I get why he did that but that was really sad to me
Gillian Harrison
½
I would like to start out by saying that the first "review quote" atop of this poster is completely incorrect. This movie will not sit with you long after you've left the theater however, the second is very true. The entire movie is a natural collection of father and son moments....why? Because Isaac in the movie is Mark's real life son. I understand that the film was trying to convey accepting death and moving forward however I don't think Mark knew exactly how to execute that without being blatant which is exactly what happens towards the end with the goldfish. What Mark has done is make a movie about his life with a few situations distorted (his wife is not dead, they are separated). After watching the film, I knew Isaac had to be his son because there was no way a child that young could give such a raw and real performance. Sure enough, Mark had a friend follow them around with a camera, the kid never knew he was making a movie, which adds to it's realism. What we get is a natural father/son relationship that I don't think can be duplicated. The main problem lies in the story/plot, it's pretty much MIA. Mark has no money and can't get any gigs (insert cameo here by actor playing him/her self), is alone, "struggling" to take care of Isaac and trying to fill the void of his passed girlfriend with Shannyn Sossaman and some Jocelyn chick. I kept thinking throughout the movie, "why doesn't get a JOB while he tries to book a gig?" Aside from the lack thereof of a good plot, it will be intriguing to see what Mark comes up with next, albeit he doesn't base another movie on his personal life.
Emily DePetro
Discussion Forum
Discuss The End of Love on our Movie forum!
News & Features