The Hunger Games
(2012)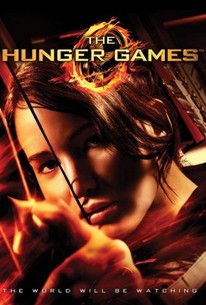 TOMATOMETER
AUDIENCE SCORE
Critic Consensus: Thrilling and superbly acted, The Hunger Games captures the dramatic violence, raw emotion, and ambitious scope of its source novel.
Movie Info
Every year in the ruins of what was once North America, the evil Capitol of the nation of Panem forces each of its twelve districts to send a teenage boy and girl to compete in the Hunger Games. A twisted punishment for a past uprising and an ongoing government intimidation tactic, The Hunger Games are a nationally televised event in which "Tributes" must fight with one another until one survivor remains. Pitted against highly-trained Tributes who have prepared for these Games their entire lives, Katniss is forced to rely upon her sharp instincts as well as the mentorship of drunken former victor Haymitch Abernathy. If she's ever to return home to District 12, Katniss must make impossible choices in the arena that weigh survival against humanity and life against love. -- (C) Lionsgate
People Who Like this movie also like
News & Interviews for The Hunger Games
Critic Reviews for The Hunger Games
Audience Reviews for The Hunger Games
½
I haven't read the book so I can't compare to that. It's a well made film with a big production and talented cast. Tiny bit surprised at being a 12a rating, it's basically teenagers fighting to the death by killing each other off! Also a theme similar to many films, Running Man, Battle Royal, The Condemned. So not that original but decent enough to check it out.
The dystopic universe could have been better explored, while the shaky camera in the action scenes makes it a bit hard to follow what is actually happening on screen, but still this is an exhilarating movie that benefits a lot from great performances and charismatic characters.
Carlos Magalhães
Super Reviewer
"The Hunger Games" does everything right that the "Twilight Saga" did wrong. It invests you in the characters, makes you feel emotion for every tribute who is on the "good" side, and creates an atmosphere unlike anything you have ever seen. As Katniss's younger sister Primrose is chosen as tribute to compete in the 74th annual Hunger Games, she will not have it. She volunteers herself to compete. The Hunger Games are a battle to the death. 12 districts across the world compete. It is a televised event that happens out of pure chance. Many of the contenders have been trained, while Katniss (Jennifer Lawrence) is forced to rely on her hunting knowledge and coaching instructions. As she meets Peeta (Josh Hutcherson), her feelings for the game change, when she finds out that he is in love with her. 24 contestants are forced into battle, only one comes out alive. In this borderline PG-13 flick, the gore is as high as it needs to be, the acting is brilliant by the entire cast, especially Jennifer Lawrence, who pulls off a powerhouse portrayal of Katniss. Emotion runs on high throughout this film and I was on the edge of my seat the entire way through. It does have it's share of cliche's of course, and those are the few minor faults. The shaky camera felt a little off when you try to focus on the action, the chemistry between Katniss and Gale was a bit rushed, and the conclusion of the film leaves you with so many questions. This film does give you a lot of what you want and It is everything a book adaptation should be. "The Hunger Games" is a great starting point for this series.
The Hunger Games Quotes
| | |
| --- | --- |
| Katniss Everdeen: | How will they change you? |
| Peeta Mellark: | I don't know. Turn me into something I'm not. I just don't want to be another piece in their game, you know? |
| | |
| --- | --- |
| Gale Hawthorne: | Oh yeah, I forgot something. *brings out the bread* |
| Gale Hawthorne: | Oh yeah, I forgot something. |
| Katniss Everdeen: | Oh my God! Is this real? |
| Gale Hawthorne: | Better be. It cost me a squirrel. |
| | |
| --- | --- |
| Katniss Everdeen: | How many times is your name in today? |
| Gale Hawthorne: | Forty-two. I guess the odds aren't exactly in my favour. |
Discussion Forum
Discuss The Hunger Games on our Movie forum!