The Incredibly Strange Creatures...
(1963)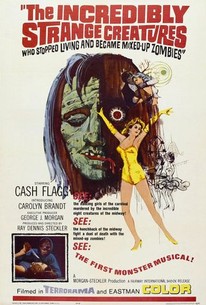 The Incredibly Strange Creatures... Photos
Movie Info
A carnival freakshow is the setting for this Ray Dennis Steckler cult classic, about a gypsy who scars her unsuspecting patrons with acid to make them into zombies. A.K.A. The Teenage Psycho Meets Bloody Mary.
Critic Reviews for The Incredibly Strange Creatures...
Audience Reviews for The Incredibly Strange Creatures...
The name alone should imply how clueless the people who made this were. It's completely pointless and does nothing right. The movie title is too long begin with and literally in the first two minutes I completely gave up hope to find any kind of entertainment. Now this movie has no plot, no character development, no point, and anything else that's require in a plot. It's so poorly written and nothing is ever explain. Like why didn't the main character girlfriend end the relationship when her boyfriend choked her? I don't know and neither do the writers for that matter. It has allot of pointless dance scenes and really bad humor. Like when the stand up comedian says "So have you heard of my parent iron and steel company? No... well my mom irons and my dad steals", most of the extra stayed silence when that joke was deliver. Than comes the "climax" which is nothing but five minutes of people running after our main character only so he can get shot in the end. This is clueless film-making at it worst and even those enjoy bad movies for the comedic values will find nothing to laugh about. The "actors" aren't worth mentioning since they never put an effort in their "acting". They do everything wrong. They under act, keep the same unmotivated expressions knowing they'll never be another movie again, and saying lines of dialogue incorrectly. One of the most hilarious being "Look at the beautiful, speening wheel. See how it speens!" It's really inconsistent as well, one example being the "climax" begins at night, then immediately switches to broad daylight. Or seeing an extra being killed and than later seeing that same extra in another scene. You also got to love how bad the makeup effects are here, you could find better effects at a costume store. The editing is at the same level of awfulness as The Singing Forest in terms of bad editing. Both have background sounds that make it impossible to hear what the actors are saying, abrupt cuts, bad use of the camera (one scene involve the camera zooming in out a character face for no reason), and both are painful to watch. Is there anything redeemable about this mess? Seeing "The End" sign at the end of the movie is one of the happiest moment you'll have knowing that your suffering and boredom is finally over. The Incredibly Strange Creatures Who Stopped Living And Became Mixed-Up Zombie has allot you can hate about. It doesn't deserve your time and it's not worth writing about.
Caesar Mendez
Super Reviewer
An incredibly strange movie, and not in a good way! The title is enticing, but it doesn't deliver on the story and the acting is atrocious. Most of the movie is taken up by carnival rides and dance numbers. Only watch this in the Mystery Science Theatre 3000 version.
This is a complete load of crap. But it's in the "so bad it's good" category.
The Incredibly Strange Creatures... Quotes
There are no approved quotes yet for this movie.