The Killer Inside Me
(2010)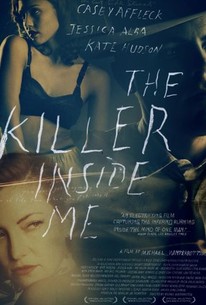 TOMATOMETER
AUDIENCE SCORE
Critic Consensus: The Killer Inside Me is stylish and beautifully shot, but Michael Winterbottom's distance from his characters robs this often brutally violent film of crucial emotional context.
The Killer Inside Me Photos
Movie Info
Based on the novel by legendary pulp writer Jim Thompson, "The Killer Inside Me" tells the story of handsome, charming, unassuming small-town deputy sheriff Lou Ford, who has a bunch of problems. Women problems. Law-enforcement problems. And an ever-growing pile of murder victims in his west Texas jurisdiction. All the while Lou manages to remain his stoic self. However, as evidence is discovered over the course of the investigation, suspicion begins to fall on Lou. But in this savage and bleak universe, nothing is ever what it seems.
People Who Like this movie also like
News & Interviews for The Killer Inside Me
Critic Reviews for The Killer Inside Me
Audience Reviews for The Killer Inside Me
½
An intriguing film that really surprised me, taking a look at the mind of a psychopath while wisely avoiding easy reasons for his disorder, and the brutal, overviolent murder scenes are shocking and disturbing, depicting with bold realism the whole extent of his cruelty.
Carlos Magalhães
Super Reviewer
½
"You don't fit the bill as a killer," newspaper man Joe Rothman (Elias Koteas) says to Lou, Casey Affleck's character. This severe underestimation epitomizes this melodrama, a brooding, mesmerizing period piece set in 1950s Texas. This admittedly controversial film should be a modern film noir masterpiece, but its graphic violence particularly against women may have doomed it to cult status. It's a twisted misogynist psychological thriller that depicts a sadomasochistic psychotic as well as I've ever seen on film. The aforementioned character is played by Casey Affleck, who continues to amaze me. His main character is kinky yet mysterious; he plays a sort of amoral calculating characters who both derives pleasure from and is disgusted by his horrible misdeeds. This film is brutal and seductive in equal measures, and although a period piece about small town 1950s Texas, its shocking brutality has a modern feel. This is a more graphic version of The Last Picture Show meets Gone Baby Gone. The main character possesses an amorality rarely seen in film. He's so smooth his victims never see it coming, as he explains to one of them. Jessica Alba is wonderful, as his Kate Hudson-in a better role than usual. The music, a combination of opera and western swing, creates a fantastically eerie mood also. I recommend this film to thriller fans, but be prepared-its extreme
Clintus Maximus
Super Reviewer
½
Lou Ford: I got a foot on both sides of the fence. They were put there early and they stayed put. I can't move. I can't jump. All I can do is wait until I split, right down the middle. Michael Winterbottom is a director who I can say, after only seeing three of his films, The Killer Inside Me being the third and A Mighty Heart and Road to Guantanamo being the other two, that I respect. It's rare that a director hooks you like that after only seeing a few of his movies, but Winterbottom is an extremely interesting direct. He doesn't shy away from material, that's for damn sure. Movies like A Mighty Heart and Road to Guantanamo show that off excellently. The Killer Inside Me does too. There's a lot of really disturbing and disgusting material, some shown and some hinted at, and also highly psycho-sexual. A small town deputy sheriff hovers between two lives, his simple life as a deputy and the other part of him that comes out. We get a lot of backstory throughout the film that explains why Lou Ford has the killer inside him and it's done in a really clever and interesting way.  While this isn't as good as the other two films I've seen from Winterbottom, I still really liked it and think it's highly underrated. I thought Casey Affleck nailed his role as Lou Ford. He came off as not just a believable psychopath, but a perfect psychopath. The supporting cast surrounding Affleck is interesting to say the least. We get Kate Hudson, Jessica Alba, Ned Beatty and Bill Pullman, along with some Texas accented character actors. None of them really help the movie at all, there all kind of just there, which makes sense given the main characters lack of empathy for other human beings.  The Killer Inside Me is definitely worth a watch. It's not a masterpiece by any stretch, but it's a solid crime thriller with a surprisingly excellent performance from Casey Affleck. It has a nice pace and Winterbottom's direction is extremely clever. 
Melvin White
Super Reviewer
The Killer Inside Me Quotes
| | |
| --- | --- |
| Lou Ford: | Well I guess I want you out of central city by sun down. |
| | |
| --- | --- |
| Billy Boy Walker: | A weed is a plant out of place. I find a hollyhock in my cornfield, and it's a weed. I find it in my yard, and it's a flower. You're in my yard |
| Billy Boy Walker: | A weed is a plant out of place. I find a hollyhock in my cornfield, and it's a weed. I find it in my yard, and it's a flower. You're in my yard. |
| | |
| --- | --- |
| Lou Ford: | nothing relieves tension like a good spanking! |