The Snowman
(2017)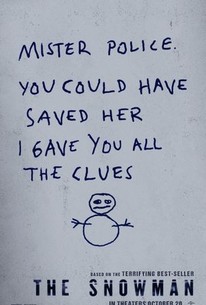 TOMATOMETER
AUDIENCE SCORE
Critic Consensus: A mystery that feels as mashed together and perishable as its title, The Snowman squanders its bestselling source material as well as a top-notch ensemble cast.
Movie Info
When an elite crime squad's lead detective (Michael Fassbender) investigates the disappearance of a victim on the first snow of winter, he fears an elusive serial killer may be active again. With the help of a brilliant recruit (Rebecca Ferguson), the cop must connect decades-old cold cases to the brutal new one if he hopes to outwit this unthinkable evil before the next snowfall.
News & Interviews for The Snowman
Critic Reviews for The Snowman
Audience Reviews for The Snowman
½
Michael Fassbender may be of the one of the most talented and reliable actors of his generation but the same can't always be said about some of his film choices. Assassin's Creed only added to another failed video-game adaptation and his work with Ridley Scott on Prometheus, Alien: Covenant and The Counselor also failed to impress (although, I was admittedly one of the few admirers of the latter film). My point being, though, is that he's now not quite as bankable as he once was. Over recent years, you're just as likely to catch a stinker as you are a work of quality and The Snowman doesn't do anything to remedy this issue. Plot: Alcoholic, crime squad detective Harry Hole (Michael Fassbender) finds himself on the trail of an elusive serial killer who kills when the first snow of winter falls. With the help a new recruit (Rebecca Ferguson) he has to compare the new case with decades old ones to connect the dots and track down the a killer that's been on the loose for some time. Originally intended as another Martin Scorsese and Leonardo DiCaprio project before then having Ridley Scott attached it. Due to delays, DiCaprio walked away, Scorsese ended up as executive producer and Scott walked as well. It could've been time constraints that led to them distancing themselves or just maybe these two experienced directors seen problems ahead and made a wise choice. There are undeniable problems and if truth be told, I fell asleep on the first viewing and went back to it again thinking that I hadn't given it my full attention and may have missed something. I hadn't. The film is sleep-inducingly dull and lacks so much narrative drive that it's hard to keep your eyes open. Put simply, it's a ridiculously lazy film with an insultingly lazy script. The sheer incoherence of it makes no difference whether you've slept through it or not. It's the quality involved that makes this a surprisingly awful endeavour though; there's Fassbender, of course, and also the usually reliable J.K. Simmons in the cast; there's Oscar nominated screenwriters in Frank's Peter Straughan and Drive's Hossien Amini penning the script to Jo Nesbø's taut crime novel and director Tomas Alfredson coming off the back of two solid critical hits in Swedish vampire film Let The Right One In and the labyrinthine adaptation of John LeCarre's Tinker, Tailor, Soldier, Spy. So what is the problem? The problem obviously stems from it being a rushed production. Apparently, Fassbender started shooting only two days after wrapping Assassin's Creed, and it shows. He looks absolutely exhausted; Jonny Greenwood actually created a score that ended up not getting used and Alfredson also claims that he came late to the production and that 15% of the screenplay was never actually filmed. You can tell. There are more plot holes here than you can shake a Harry Hole at and the narrative is so painfully slow that any snowmen getting built would've thawed out long before an investigation even got going. It's such a shame that this really didn't come together as all the ingredients are in place and had some genuine potential. In fact, it's astonishing how poor it is with the quality involved and it looks like any hope of a Harry Hole franchise could already be dead in the water while Michael Fassbender best be careful if he wants to retain his reputation. To be fair, the film's problems don't particularly lie with him but he needs to seriously take stock and be bit more discerning and choose projects more worthy of his abilities. Who knows? Maybe it's no one's fault and this is just a classic casualty of production difficulties and time constraints that led to no one being able to do their jobs effectively. What could've been a suspenful thriller ends up about as thrilling as eating yellow snow. Don't stay out in the cold too long with this one or you might catch a serious doze of incurable mediocrity. And never mind the misleading title of "The Snowman". It should've taken its name from its anatomy instead... Snow balls. Mark Walker
Mark Walker
Super Reviewer
ABOMINABLE- My Review of THE SNOWMAN (1/2 Star) Although completely random, I saw likely the worst and the best movie of the year today. More on the latter in my next review, so let's concentrate on the stinker. THE SNOWMAN had all of its ducks in a row to be great. Director Tomas Alfredson helmed the classic LET THE RIGHT ONE IN, its writers Peter Straughan, Hossein Amini, and Søren Sveistrup have such credits as DRIVE, TINKER TAILOR SOLIDER SPY, and THE KILLING and the film is based on the Norwegian bestseller by Jo Nesbø. The strong cast, which includes Michael Fassbender, Rebecca Ferguson, Charlotte Gainsbourg and J.K. Simmons, typically delivers great work. But wait, this film has two incredible editors? Thelma Schoonmaker has edited many of Martin Scorsese's greatest films while Claire Simpson won the Oscar for PLATOON. Isn't one enough? And then, upon its release, Alfredson, probably in an attempt to distance himself from the film, has said that 10-15% of the script had not been shot. Uh oh. Trouble in paradise. What should have been a classic serial killer thriller with the added value of its gorgeous Scandinavian settings has sadly amounted to a truly boring, truly terrible, borderline incomprehensible slog with some gorgeous Scandinavian settings (the 1/2 star in my review is only for what are surely second unit shots of mountains, snow, and gravity-defying twisty roads and bridges). The opening sequence alone baffled me. Set decades ago, a mother and her young son suffer at the hands of a sadistic police officer. The trauma of this experience is meant to show us the motivation of a future serial killer, but I didn't quite understand what I was watching. Somehow, we're supposed to understand that from this, the killer would want to build Snowmen at every crime scene. Um, sure, I think? Cut to the present and we meet Michael Fassbender as a drunken mess waking up in a shack in the wintry snow of Oslo. He plays detective Harry Hole (and no, I'm not making that up), who doesn't seem to have the will to pursue another case. Harry has enough problems in his personal life, that he simply can't be bothered when Ferguson is assigned to work with him on the case of the Snowman Killer, who has a penchant for murdering promiscuous single moms. Can Harry get his groove back in time to catch the killer? On paper, this sounds solid enough, but the execution is a shambles. Every time we zoom in on one of the snowmen, the music cues sound like they've been lifted from an episode of MR. BILL. It's tremendously silly, but at least it's something. The rest of this film is lifeless. Fassbender and Ferguson catatonically stroll from clue to clue and periodically we flash back to an earlier time when Val Kilmer was on the case. These flashbacks feel plunked in without any real purpose and Kilmer's voice appears to have been dubbed. I suppose his investigation ties into the main story, but I was beyond the point of caring. Tedium sets in early and stays that way throughout. By the time the killer is revealed, I sighed in relief merely because it meant the film was almost over. It all makes sense in a boilerplate, crime procedural way, but there's such a disconnect between storytelling and excitement, a Tower Of Babel level of disparate attempts at Norwegian accents (some go British while others attempt some sort of regional dialect). There's a nifty attempt at something visceral with the killer using a coiled retracting zip wire to strangle his victims, slicing off heads and limbs in the process. Chloë Sevigny shows up as a pair of twins who like to chop the heads off of chickens, and the less said about that the better. I just kept thinking about the pedigree of this cast and crew and wondered how amazing it must have looked on paper. I love the serial killer genre, and cinematographer Dion Beebe contributes some staggeringly beautiful shots. I suppose the film is about breaking the cycle of abuse, but it's a muddled mess best left forgotten. Everyone involved has done and will do amazing work on other projects. Let's be grateful for that!
Glenn Gaylord
Super Reviewer
When meshing multiple genres together, it can be quite the challenge to please fans of each, but it's been done very well in the past. With the right amount of effort put, multiple genre films can be some of the best out there. Whether you're talking about Gone Girl being a Crime/Thriller or Hot Fuzz being an Action/Comedy, genre crossovers can be a real joy to see on-screen. The Snowman is the most recent film to mix genres, delivering a Horror/Thriller vibe, with a very large portion falling into the Mystery category as well. Sadly, this movie feels hollow, empty, and unfinished. With such a stellar cast and crew working on this movie, there's no reason for a movie like this to be terrible, but let me just start by saying this is one of the worst films of the year. The Snowman fails as a piece of compelling storytelling, as well as doing anything new for its genre. Starring Michael Fassbender, Rebecca Ferguson, and Charlotte Gainsbourg, The Snowman follows detective Harry Hole as he investigates mysterious disappearances. Joined by detective Katrine Bratt, the two realize that the kidnapper/killer has been dismembering their victims and leaving traces in the form of snowmen. That's the simplest way to explain this film without spoiling or making it sound too ridiculous, because trust me, the twist and how the twist occurs is quite dumb in terms of storytelling. This film went through many issues when being filmed, but then why the major release? Quite honestly, this film deserved to be sent straight to home video, because everything from its clunky screenplay to its choppy editing felt off. Your movie makes it into post-production and is now being made into the best possible version it can be (hopefully), so why is it that it still turns out to look like a two-hour trailer that breezes past crucial plot points? There are multiple occasions throughout the course of this film that sequences feel missing. Although certain reveals are easily spottable throughout the first two acts, the movie asks you to patiently wait until the final 15-20 minutes in order to really invest yourself in the plot twists. That would've been fine if the story kept you on the edge of your seat, but not much of anything is truly that interesting throughout the first two acts. Yes, the premise itself could've lent itself to an interesting film overall, but it was only the performances that kept me from wanting to leave the theatre. I'm a huge fan of Michael Fassbender and Rebecca Ferguson. Although Ferguson hasn't really been all that present in the world of motion pictures for as long as Fassbender (at least in the mainstream spotlight), I find her work to be wonderful. Whether it's being a badass heroin in Mission Impossible: Rogue Nation or giving a devoted dramatic performance in the lukewarm The Girl on the Train, she has proven herself to have some range. Fassbender is pretty likable in everything he does, so that should come as no surprise, but I'm honestly only gushing over these two performers because the film itself doesn't have much to lend a compliment to. I found myself incredibly bored with its pacing and lack of an inciting incident to really get me invested. In the end, there is a salvage score to keep the film's tone in line, a lot of the cinematography is well-done, and the performances seem to be devoted to their respective roles. That being said, the screenplay, along with the overall editing and final product, just doesn't match up to any of those aspects. The film feels like one long movie trailer for a ten-episode television series. The worst part is that you can see where the film could've been improved upon, which makes rewatching it impossible. There isn't a scenario in which I'll ever find myself recommending this movie to anyone. The Snowman is a neat idea that is stretched into a two-hour film that feels too long, while also feeling incomplete. A disappointing film to say the least.
The Snowman Quotes
There are no approved quotes yet for this movie.
Discussion Forum
Discuss The Snowman on our Movie forum!