Three Identical Strangers
(2018)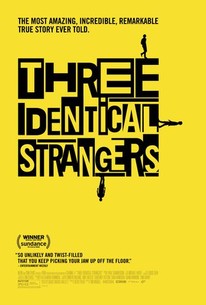 Three Identical Strangers Videos
Three Identical Strangers Photos
Movie Info
Three strangers are reunited by astonishing coincidence after being born identical triplets, separated at birth, and adopted by three different families. Their jaw-dropping, feel-good story instantly becomes a global sensation complete with fame and celebrity, however, the fairy-tale reunion sets in motion a series of events that unearth an unimaginable secret -- a secret with radical repercussions for us all.
News & Interviews for Three Identical Strangers
Critic Reviews for Three Identical Strangers
Audience Reviews for Three Identical Strangers
½
It gets a little too saccharine in some of its conclusions, especially when you consider all the dark turns the narrative takes, but perhaps that is an effort to rebuke the cruelty inflicted on these people. Regardless its a compelling narrative.
Alec Barniskis
Super Reviewer
½
A thoroughly intriguing and disturbing documentary on the nature/nurture debate that really whipsaws your emotions. The movie is basically a horror story of these triplets who were treated as lab rats. Aptly directed and edited Three Identical Strangers was a revelation. One of the saddest movies I have watched in a long time. (8-11-18)
½
GEEZ LOUISE! - My Review of THREE IDENTICAL STRANGERS (3 1/2 Stars) Tim Wardle's documentary, THREE IDENTICAL STRANGERS, isn't the sort of film that sneaks up on you, since it rushes out of the gate with such an entertaining burst of energy. Employing somewhat distracting, soft focus reenactment footage with direct-to-camera talking heads, he tells the story of identical triplets, separated at birth in 1961 and who meet for the first time when they're 19 years old. A random case of mistaken identity on Bobby's first day of college leads him to discover he has a twin brother, Eddy. When their meeting makes the news, David sees himself in the pair, leading to their joyous reunion. Dressing and acting alike, all with infectious, toothy grins and dynamic energy, they find instant fame on the talk show circuit and even make a brief cameo appearance in Madonna's breakout film, DESPERATELY SEEKING SUSAN. This section is enough for a fun, human interest story, but clearly not enough for a movie. Something darker must await the audience. Once the dust settles, questions start to arise. None of their adoptive parents knew their children were born triplets, a fact kept from them by the Louise Wise adoption agency, which primarily helped find homes for Jewish adoptees. When the parents confront the Wise's Board of Directors, something seems a little off. It reminded me of the next door neighbor gatherings in ROSEMARY'S BABY, with Louise Wise and her gang guilty of something despite their warm smiles. It turns chilling, especially in interviews with a peripheral person to the agency who either will make complete sense to you, or you'll be shocked by the banality of her brand of evil. I won't spoil where all this leads, but suffice it to say, this humorous look at how nature can produce seemingly identical people despite the fact that they were raised in completely different ways, turns very sad and very dark. The role of nurture comes into play, especially as the onion layers get peeled off to reveal three distinct personalities. By the end, you're left wondering what shaped each of their lives, what informed their behavior, and how much of it was instinctual versus learned. It's fun tracing the rise of the brothers, who clearly had a thirst for fame. It's a rags, rags, rags to riches, riches, riches and back again story. You feel their flush of love for each other but can see the sadness in their eyes as they tell their stories. It's a deeply unsettling experience to watch. I'm not convinced that Wardle gets as far as he can with his subjects. They seem to hold back a little, perhaps minimizing the terrible downside which befell them after meeting. You wonder if they would have been better off blissfully unaware of their past. All told, THREE IDENTICAL STRANGERS is a terrifying piece of work. It may force you to not trust elation. It opens your eyes to the fact that even the people who appear to do good in the world may not have your best interests in mind. As a world currently filled with a surplus of trust issues, the film plays right into that. It's a killjoy, a good killjoy, but a killjoy just the same.
Glenn Gaylord
Super Reviewer
Three Identical Strangers Quotes
There are no approved quotes yet for this movie.