Three Identical Strangers
(2018)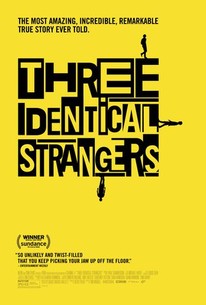 Three Identical Strangers Videos
Three Identical Strangers Photos
Movie Info
Three strangers are reunited by astonishing coincidence after being born identical triplets, separated at birth, and adopted by three different families. Their jaw-dropping, feel-good story instantly becomes a global sensation complete with fame and celebrity, however, the fairy-tale reunion sets in motion a series of events that unearth an unimaginable secret -- a secret with radical repercussions for us all.
News & Interviews for Three Identical Strangers
Critic Reviews for Three Identical Strangers
Audience Reviews for Three Identical Strangers
½
The last three or so minutes of this thing will get you despite it dragging slightly from moment to moment in the last half hour. Utterly, utterly fascinating stuff here that is as much about nature versus nurture as it is context, context, context. To this point, the editing is outstanding. Hesitant to say much more about it as I knew little to nothing walking in and came out completely chilled and rather mystified. Will certainly come back to this again (and probably again & again). Cannot stop thinking about it.
Philip Price
Super Reviewer
½
It gets a little too saccharine in some of its conclusions, especially when you consider all the dark turns the narrative takes, but perhaps that is an effort to rebuke the cruelty inflicted on these people. Regardless its a compelling narrative.
Alec Barniskis
Super Reviewer
½
A thoroughly intriguing and disturbing documentary on the nature/nurture debate that really whipsaws your emotions. The movie is basically a horror story of these triplets who were treated as lab rats. Aptly directed and edited Three Identical Strangers was a revelation. One of the saddest movies I have watched in a long time. (8-11-18)
Three Identical Strangers Quotes
There are no approved quotes yet for this movie.