Time Changer
(2002)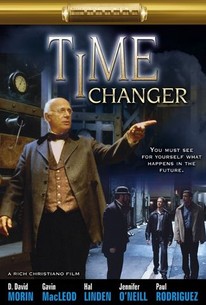 Movie Info
A bible professor from 1890 comes forward in time to the present via a time machine and cannot believe the things that he sees...
Critic Reviews for Time Changer
Audience Reviews for Time Changer
A very nice movie for Christians with a very true and valuable message as it compares times from now (when this movie was filmed even then were times a bit cleaner but still not) and 100 years ago! It's a must watch as it will remind you how we and the world have lost its fear of God! Look at kids now days when there problems and continual disobedience! I very nice and I highly recommend it and hope the Lord vists you through it.
Jalissa Siliezar
This is one of those sneaky movies that pretends to be a legitimate movie. However, once you've invested about 40 minutes of your time you realize that it's just another way of trying to convert you to Christianity. Think of it as a 21st century way of finding out tracks at the mall
Jerry Youngman
If you ever wondered what would happen and what is happening with the separation of Church and State, this film portrays this wonderfully. It's not the best made film. It lacks on so many levels but the story is amazing. It sincerely puts so much in prospective on the, what if, we turn our backs on God. www.what-to-watch.com
Laura Rachel
Time Changer Quotes
There are no approved quotes yet for this movie.
Discussion Forum
Discuss Time Changer on our Movie forum!