Tokyo Drifter
(1966)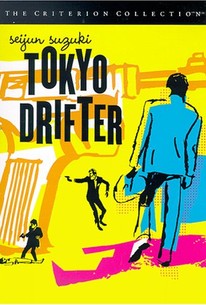 Movie Info
Tokyo Drifter stands with Branded to Kill as one of the best-known and most acclaimed films of Seijun Suzuki, one of Japan's most talented maverick directors. A colorful riot of an action drama, Tokyo Drifter, like many of Suzuki's films, transforms a standard gangster film plot into a vehicle for his own loopy brand of filmmaking, featuring gorgeous cinematography, unconventional storytelling techniques, and a dark sense of humor. This particular example centers on Tetsu, a yakuza member who, when his gang is disbanded, remains loyal to his boss and attempts to go straight. This is no easy task, however, as the yakuza are determined to get him back into the life -- or kill him if he refuses. The pressure soon forces Tetsu to go on the road, becoming the "Tokyo drifter" of the title, but even this is not enough to prevent his past from violently catching up with him. The film's choreographed action and vibrant color palette make the frequent action sequences, including one of the most raucous barroom brawls ever put on film, seem almost like musical numbers, resulting in a spectacularly entertaining and truly original take on the gangster drama. ~ Judd Blaise, Rovi
News & Interviews for Tokyo Drifter
Critic Reviews for Tokyo Drifter
Audience Reviews for Tokyo Drifter
½
The first Yakuza film I've ever seen, and for me, a real eye-opener. I love movies about trying to leave a life of crime behind, and I really enjoyed this one and got behind the hero, Tetsu. If you're a Tarantino fan, watching this (or other Suzuki films) will put his work (particularly the Kill Bill films) into proper context. Exotic music, insanely bright colours, and as far as I'm aware, the earliest instance in my viewing history of the supered-on-the-screen text that we're seeing more and more in North American films, too. A window into 60s Japanese pop culture, and like nothing I've ever seen before.
Daniel Perry
Super Reviewer
A pop 60's aesthetic, a cool like Steve McQueen, a powder blue seersucker suit and an indescribable plot miraculously combine in this B-movie chic from Japan about a mob guy (the Yakusa, baby!) trying to go straight. As another made guy famously said: "... every time I try to get out they drag me back in!"
Kevin M. Williams
Super Reviewer
Seijun Suzuki's "Tokyo Drifter" is a very silly but important B-Movie. It encompasses the 1960s Japanese New Wave into one film. It's visual and auditory mischief can certainly be amusing (and often copied, most notably by Quentin Tarantino with "Kill Bill: Volume 1") but it also adds up to next to nothing. It's hard to fully embrace a film that makes so little sense. There is nothing to plug into emotionally or narratively. The film may be fun and it's use of color is dazzling, but without any human anchor (which Tarantino certainly added to his pictures) we are left will all style and very little substance.
Steven Carrier
Super Reviewer
Tokyo Drifter Quotes
There are no approved quotes yet for this movie.