Too Bad She's Bad
(1955)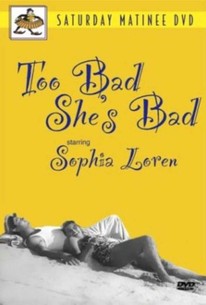 AUDIENCE SCORE
Critic Consensus: No consensus yet.
Movie Info
In this frothy romantic crime comedy, a cab driver picks up a beautiful woman and her three male pals. As they get out of the cab, the woman seductively teases the driver to join them. He is about to acquiesce, when he catches the guys trying to rob his rig.
Critic Reviews for Too Bad She's Bad
All Critics (1) | Fresh (1) | Rotten (0)
... the three Binga, Banga, Bonga stars are enjoyable and if the comedy doesn't grab you then the men can at least ogle the curvaceous Sophia.
Audience Reviews for Too Bad She's Bad
In "Too Bad She's Bad," Lina(Sophia Loren), Toto(Michael Simone) and Peppino(Giorgio Sanna) hire Paolo(Marcello Mastroianni), a taxi driver, for the day for 8000 lire to drive them to the beach, so they can go skinnydipping.(Calm down! You're drooling on the keyboard.) While Paolo is chatting up Lina, the guys try to steal his cab but are foiled by the car's alarm. They escape but not before the mudguard is damaged. Paolo tries to get Lina to lead him to them but she gets away. However, they soon run into each other again, this time going back to her place where they meet Vittorio(Vittorio De Sica), her father who has a thing for suitcases, especially empty ones. "Too Bad She's Bad" is a very good, very funny and delightful screwball comedy that gives new meaning to trying to make an honest woman out of somebody. It was made at a time when Italy had finally recovered from World War II and was on the move again, with tourists aplenty which makes it perfect for any amount of chicanery. This brings up quite a bit of generational conflict as Paolo looks down on the kids for not working hard while Vittorio looks down on them for not knowing how to steal correctly. I read on TCM.com that this was the first pairing between Loren and Mastroianni and already they have a great chemistry working together with him playing the straight man to her character out to prove that there is more to her than simply her physical assets. That having been said, Vittorio De Sica nearly steals the movie out from under them, playing a different kind of crook than the one he would play in "General Della Rovere." Now, if somebody could only explain what the waiter is doing in the police station, I'll be all set.
Charming con caper, Italian style.
Stefanie C
Super Reviewer
½
Funny Italian comedy that introduced the world to Sophia Loren. Va va va voom!
Ken Stachnik
Super Reviewer
Too Bad She's Bad Quotes
There are no approved quotes yet for this movie.