Tracks
(2014)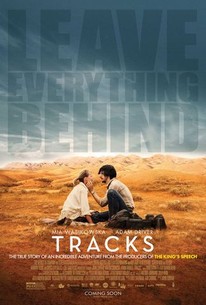 TOMATOMETER
AUDIENCE SCORE
Critic Consensus: What Tracks lacks in excitement, it more than makes up with gorgeous cinematography and Mia Wasikowska's outstanding performance.
Movie Info
Director John Curran (THE PAINTED VEIL, WE DON'T LIVE HERE ANYMORE) and the producers of THE KINGS SPEECH bring you the film TRACKS, which tells the remarkable true story of Robyn Davidson (Wasikowska), a young woman who leaves her life in the city to make a solo trek through almost 2,000 miles of sprawling Australian desert. Accompanied by only her dog and four unpredictable camels, she sets off on a life-changing journey of self-discovery. Along the way, she meets National Geographic photographer Rick Smolan (Driver) who begins to photograph her voyage. (C) Weinstein
News & Interviews for Tracks
Critic Reviews for Tracks
Audience Reviews for Tracks
The real Robyn Davidson has Cheryl Strayed beat by 600 miles. Robyn is a loner. She prefers the company of the four camels she trains to carry her gear across 1,700 miles of Australian outback as well as her best friend Diggity, her dog. Mia Wasikowska plays the young writer trying to get away from shallow 70s society for awhile. Adam Driver is the awkward photojournalist who follows her progress. The audience gets a chance to flashback to some of Robyn's childhood scenes and view wide expanses of Australian desert dotted with little settlements. It is a mostly hopeful tale of self-discovery on a long lone trek.
Byron Brubaker
Super Reviewer
I saw "Tracks" at TIFF 2013 and it was one of my favourite films of that year. It came and left quietly, and when I recently rewatched it, I was blown away again by the gorgeous visuals and strong performance of Mia Wasikowska. The Weinstein Company is pushing it again this awards season so hopefully it will track some momentum for director John Curran, Wasikowska, and the film.
½
Sometimes you see films where it's downright obvious why it was made. The filmmakers show a burning passion that almost seems to leap off the screen and into your heart. You can tell that they would die to get their story told. Then there's TRACKS. While beautiful to look at, this conventionally told story of a young woman trekking over 2000 miles through the Australian Outback doesn't seem to have enough of a story to truly captivate an audience. Mia Wasikowska plays Robyn Davidson, who believes there's more to life than the big city, and walks through the desert with her dog and four feral camels to experience a different side of life. There have been existentialist desert treks presented on film before, GERRY and THE SHELTERING SKY being two prominent examples, and they were able to find compelling ways to illustrate their themes. TRACKS isn't a total washout. Wasikowska has a quiet, understated sharpness to her character, a tough reserve which makes her survival instincts completely believable. In the early sections of the film, where she's learning how to train camels, she's completely convincing in her ability to get what she needs to begin her journey. As she gets more and more exposed to the sun and the elements, her face gets terribly sunburnt. This is a quiet yet rich performance, worth seeing despite the film's many shortcomings. Set in the mid-1970s, this true story became a National Geographic article and a bestselling novel. Along the way, she's occasionally met by a photographer from the magazine (Adam Driver from GIRLS) for candid photos as well as just to make sure she's alive. One automatically assumes a romance will ensue, but this film has nothing more on its mind than to show one woman's quest for isolation. Picture an Aussie-accented Greta Garbo intoning, "I want to be alone, mate" and you'll get the idea. Driver is sweet and winning here, showing us a different side to him from his bizarre sociopath on GIRLS. Director John Curran (THE PAINTED VEIL) and Screenwriter Marion Nelson don't instill many stakes or drama into the story. Every now and then, something random happens involving a snake, or a dog, or...well, that's about it. A woman walks across the desert, learns a simple moral lesson, and we see lots of pretty landscapes. I suspect the actual magazine article is the best format for this tale. I also suspect there will be those who get lost in the quiet beauty of this film. I don't want to begrudge anyone that, but all I can say is, if you introduce a feral camel in the first act, next time, let it bite the hell out of someone in the third!
Glenn Gaylord
Super Reviewer
Discussion Forum
Discuss Tracks on our Movie forum!