Turtles Can Fly
(2005)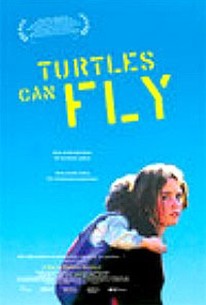 Movie Info
Turtles Can Fly, written and directed by Bahman Ghobadi (Marooned in Iraq, A Time for Drunken Horses) takes place in the days leading up to America's second war against Iraq, in a small village and refugee camp on the border of Iraq and Turkey. Soran Ebrahim stars as Satellite, a boy nicknamed for his obsession with technology. Satellite is also obsessed with the United States, and sprinkles bits of English throughout his speech. His strong personality and his resourcefulness have made him a leader among the younger children in the village. He even convinces the village elders to trade in their radios and purchase a satellite dish so they can watch news broadcasts on the upcoming war. Tension mounts as the village waits to hear when the U.S. will invade. For his part, Satellite finds himself smitten with an orphan girl, Agrin (Avaz Latif), who wanders into the refugee camp with her armless older brother, Henkov (Hirsh Feyssal), and a little boy who is nearly blind. Henkov earns a meager living clearing minefields, like Satellite, so Satellite sees him, at first, as a rival. But his earnest desire to help Agrin eventually extends to her family. Satellite and his friends find moments of joy amid the chaos and destruction, but Agrin seems haunted by past events too painful to reconcile, and her brother Henkov derives no pleasure from his seeming ability to predict the future. Turtles Can Fly was shown by the Film Society of Lincoln Center in 2005 as a part of the Film Comment Selects series.
Critic Reviews for Turtles Can Fly
Audience Reviews for Turtles Can Fly
A movie of the lost. Circumstances place some of us in the most hellish of places simply by the random lot of being born in particular countries. In this case, we are in the no man's land of Kurdistan and we know the Americans are about to invade Iraq right through the region from Turkey. In an information society, these are people without the very basic information. Where will the threat come from and when?
John Ballantine
Super Reviewer
Best film I have seen in a long time, Involves the boarder of Iraq, Iran and Turkey\, where homeless children are trying to survive. One Young man is the head of everything, he wheels and deals in everything. These children get paid for digging land mines. A very interesting film that all should see. Nothing less then 5 stars.
Bruce Bruce
Super Reviewer
½
An interesting story about Iraqi kids living in a refugee camp on the border of Turkey anticipating the Iraq War and hoping for the fall of Sadaam. The kid actors are actually refugees and improvised a lot of scenes, so it is neat and effective. The story itself can be depressing, but it is well made and shows a different side of a conflict.
Aaron Neuwirth
Super Reviewer
Turtles Can Fly Quotes
There are no approved quotes yet for this movie.