Warcraft
(2016)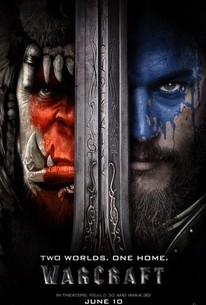 TOMATOMETER
AUDIENCE SCORE
Critic Consensus: Warcraft has visual thrills to spare, but they -- and director Duncan Jones' distinctive gifts -- are wasted on a sluggish and derivative adaptation of a bestselling game with little evident cinematic value.
Movie Info
Legendary Pictures' WARCRAFT, a 3D epic adventure of world-colliding conflict based upon Blizzard Entertainment's globally-renowned universe, is directed by Duncan Jones (Moon, Source Code) and is written by Charles Leavitt and rewritten by Duncan Jones. The producers are Charles Roven, Thomas Tull, Jon Jashni and Alex Gartner. Stuart Fenegan, Jillian Share and Brent O'Connor serve as executive producers. Blizzard's Chris Metzen co-produces. (C) Universal
News & Interviews for Warcraft
Critic Reviews for Warcraft
Audience Reviews for Warcraft
It seems like this lumbering adaptation was made exclusively for fans of the game, since for the uninitiated (like me) it will be really hard to care about paper-thin characters and a convoluted plot that feels more like the first chapter in an endless saga of movies full of noise and CGI.
Carlos Magalhães
Super Reviewer
Not having played the game, I'm surprised I liked this movie so much. The acting in "Warcraft" is mediocre at best, but the CGI is out of this world. There is a coherent story and lots of good action. It's just a lot of stupid fun.
Christian C
Super Reviewer
To avoid criticism, I will admit right off the bat that I have never played World of Warcraft. I will simply be judging this as a film fan who has watching an adaptation and judging it based on the quality of the film alone. That being said, although I could never get myself to applaud this picture, I will say that I found a lot to admire in Warcraft, even if it should have been used in a better film. Of all the failed attempts at bringing a video game franchise to life, Warcraft displays itself as the one with the most effort. Overall, Warcraft is a pretty bad film, and that is coming from someone who even enjoys dumb action flicks like the adaptation of Need for Speed, but the most frustrating part is that it actually tries to be good. Here is why Warcraft is a bland waste of potential. To put it simply, Warcraft is a 99 cent version of #GameofThrones. Following two main species in a realm consisting of many, Orcs descent upon the planet Azeroth and fail to find a truce with the humans. Seeing as they will eventually have to go into battle, deeper, more serious threats are on the rise. The Guardian, played by Ben Foster, is simultaneously an interesting, annoying, and laughable character that the plot heavily hinges on. Playing out as more of a three episode miniseries for #HBO, there are three or four core storylines that come into play here, all of which could have used their own film. In my opinion, there are far too many characters and storylines trying to develop within this two hour run time, that is implodes on itself after the first act. For a film that is 75% CGI or Green Screen, it looks very good. That being said, there is o much CGI that when the human actors are present, it clashes with the rest of the plain. Yes, this is just about the only way to make this look as realistic as possible, but it was off-putting in my opinion; However, I have to give credit where credit is due. Warcraft does benefit from impressive visual effects, but they do lose a bit of flare when the action sequences are filmed just like any other generic war film. The choreography is a bit been-there-done-that and the motion capture has been done many times. Although impressive to look at and presenting a new world to a fresh audience, it really doesn't bring anything new to the table in terms of storytelling. Everything about Wacraft is tonally drab and every character is far too serious. For a film based on otherworldly creatures from a video game franchise, you'd think that there would be a few instances of comedy in order to liven up the audience, but it falls short in that regard as well. Yes, there are a few solid character moments between the Orcs, but when the climax occurs, there are so many of them fighting that the stakes are thrown out the window. Without giving anything away, the opening scene and the final frame of this film are really the only moments of hope throughout this entire film. Both sides equally state their reasons for battle, making the stakes seem worthless, because you don't really know who to root for. Warcraft makes a valiant effort in bringing the visuals of the video game to life, and they are something that I will definitely remember this film for. The biggest downfall about this picture is the fact that it falls into the same tropes as most generic war films do. It uses its first two acts to discuss the world, introduce endless characters, set-up future storylines for a franchise, and then use its final act for mindless action that will be the only selling point for the film in the marketing. Sadly, the marketing did not even pay off that well, and not very many fans flocked out to see this blockbuster. I did admire some of the elements sprinkled throughout this film, but in an already lacklustre year for big blockbusters, this is sadly among the worst. Warcraft is all style and far too much substance to make itself coherent in any way. Fans of the video game may get more out of it than myself, but as a film it really doesn't work. I will give it quite a few points for trying its best, but it tries far too hard to impress.
Warcraft Quotes
| | |
| --- | --- |
| Anduin Lothar: | FOR THE ALLIANCE!!!!! |
| Anduin Lothar: | For the alliance! |
| | |
| --- | --- |
| Medivh: | If love is what you need, you must be willing to travel to the ends of the earth for it. |
| Draka: | |
| | |
| --- | --- |
| Durotan: | We fight together or we die together. |
| Draka: | |
| | |
| --- | --- |
| Durotan: | For orcs, there is no other life but war, but with the humans, there could be. |
| Draka: | |
Discussion Forum
Discuss Warcraft on our Movie forum!