Warcraft
(2016)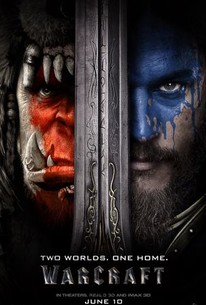 TOMATOMETER
AUDIENCE SCORE
Critic Consensus: Warcraft has visual thrills to spare, but they -- and director Duncan Jones' distinctive gifts -- are wasted on a sluggish and derivative adaptation of a bestselling game with little evident cinematic value.
Movie Info
Legendary Pictures' WARCRAFT, a 3D epic adventure of world-colliding conflict based upon Blizzard Entertainment's globally-renowned universe, is directed by Duncan Jones (Moon, Source Code) and is written by Charles Leavitt and rewritten by Duncan Jones. The producers are Charles Roven, Thomas Tull, Jon Jashni and Alex Gartner. Stuart Fenegan, Jillian Share and Brent O'Connor serve as executive producers. Blizzard's Chris Metzen co-produces. (C) Universal
Rating:
PG-13 (for extended sequences of intense fantasy violence)
Genre:
,
Directed By:
Written By:
In Theaters:
On DVD:
Runtime:
Studio:
News & Interviews for Warcraft
Critic Reviews for Warcraft
Audience Reviews for Warcraft
This lumbering adaptation was obviously made for fans of the game only, since for the uninitiated (like me) it will be very hard to care about paper-thin characters and a convoluted plot that feels more like a first chapter in an endless, tedious saga of movies full of noise and CGI.
Carlos Magalhães
Super Reviewer
½
Warcraft is simply a huge missed opportunity, it has an interesting story to tell but often gets muddled within its own narrative and falls victim to mechanical storytelling. Dull leads like Schnetzer (Khadgar) make key roles wildly uninteresting, combined with a lack for compelling character relationships make all the dramatic events in the film fall short. What little great moments there are to be had (Duotan's sacrifice, Lothar's initial recapture of the king's body, etc.) are betrayed by the film's own narrative coherency. Warcraft certainly had more than enough content for intrigue, but when you don't spend equally in a developed emotional tale there just isn't enough investment for viewers to care.
Drake Tsui
Super Reviewer
It's been a long five years since we last saw a movie directed under the name Duncan Jones. He's not just the son of David Bowie (R.I.P.) but also a talented and nimble director if science fiction thrillers with a rewarding intelligence and visual acumen. Moon and Source Code are two strong entries for anybody's resume. After flirting with Hollywood franchises for a while, Jones latched onto a personal project, spearheading a Warcraft film adaptation based upon the popular online multi-player role-playing game that boasts over 12 million subscribers. Jones has gone on record saying he is a Warcraft player himself. He co-wrote the script and embarked on a long development process working with heavy use of special effects and actors in motion capture to bring to life the otherworldly fantasy races. It's been a tumultuous road for the expensive final product, and Warcraft, as a movie, is proof that some concepts are best left to your home computer. The orc race is in need of a new home because their old world is dying. Their leader, a wizard named Gul'dan (Daniel Wu), uses magic called to open a portal to the peaceful world of Azeroth. The orcs invade and plunder although one orc, Daruton (Tony Kebbel), is wary of the motives of his leaders. He's looking for stability rather than constant conquering. He finds an unlikely ally with Anduin Lothar (Travis Fimmel), a human warrior serving King Wrynn (Dominic Cooper) and his sister, Lady Taria (Ruth Negga). The humans seek help from their own wizard, the Guardian Medvih (Ben Foster). Someone must be collaborating with the orcs to allow the inter-dimensional portal to open. Medvih's apprentice, the mage Khadgar (Ben Schentzer), teams up with Lothar to investigate and find a way to thwart the oncoming orc invaders. Unless you are a fan well versed in the lore and characters of the popular online game, Warcraft will leave you sputtering to construct cohesion from what seems like a lot of incidents without explanation, connective tissue, and a compelling reason to engage with this fantasy trope nonsense. It felt like every third page of the screenplay was ripped out of the shooting script; things merely just happen without proper setup and development. All of a sudden this character will be evil, or that character will have some prized piece of knowledge, or these two characters will be a romantic item. Things just happen in this movie and they are far too rarely given the context necessary to matter. This is less a story than a collection of ideas scattered onscreen. Take for instance our protagonists, or what you would assume are the protagonists, a pair of capable warriors trying to prevent mass causalities on both sides of the human/orc war. Except the orc character never really translates as an effective parallel to his human counterpart. You would naturally think they would be equal in significance as they try and steer their two warring sides to making less destructive decisions. I can't tell you anything about the worlds we're spirited to and from. We got elves and dwarves and mages and wizards and portals and dark magic and good magic and guns that feel entirely out of place in this universe and all sorts of names we're expected to keep up with. There is little that leaves an impact, and after a while the movie ends up becoming the metaphorical equivalent of cartoon characters that run in place while the interchangeable backgrounds alternate behind them. Besides the fact that sometimes a guy wears a crown to help you realize he's king, or a guy flashes a ball of energy in his hand, you're left on your own to interpret the characters and why they are meaningful. The plot is simple, orcs versus humans and bad warmongering leaders at fault, but it's the deluge of underdeveloped characters, subplots, and world building that make what was once simple hard to understand. I couldn't tell you why anything was happening. There is no way the casual moviegoer will be able to keep up with the speed that Warcraft hurls information at them without careful setup and meaning. You need an instruction guide to make this stuff accessible. Fantasy is a naturally transporting genre of storytelling but unless you actually develop and explain the worlds, the inhabitants, and perhaps some of the cultures, you're destined to feel like a stranger bumbling through a most foreign and unfriendly place. Warcraft does a terrible job of making its worlds feel lived in, never mind accessible. Every new location should tell us more about the world and its characters, their interactions and conflicts, difference and similarities. This is just bad storytelling, people. Ultimately, it doesn't matter where any of these locations are because they don't impact the plot. The only story is about the conflict between the orcs and humans, but this could happen anywhere. There are some "important" characters on both sides of this battle but good luck trying to engage with any of these characters. The human characters are bland. I didn't care about anyone and gave up trying. Cooper and Negga are both considerably more entertaining and effectively utilized on AMC's Preacher. It takes an hour just for Warcraft to finally establish the relationships between its various stock characters. It's the orc characters that showcase the most humanity, and credit goes more to the special effects artists and motion capture actors than the screenwriting. I appreciate how the movie devotes time to both sides of the conflict and finds figures of honor, and its best representation is Durotan. Kebbell seems like an actor who really feels a sense of freedom with mo-cap performances (he was excellent as the simian villain Koba in Dawn of the Planet of the Apes). I initially thought the creature design of the orc, what with their hulking underbites, was going to be hard to render emotive performances, but there were glimmers where you could witness the shadings of the actors beneath the underbites. It's an impressive technical feat considering the obstacles that all parties had to overcome. Sadly, this only further exposes just how shoddy the storytelling is considering the technology was capable. Darotan is a loving husband and father who is leery of his leaders intentions, but this too is just a means to serve the ultimate ends of the plot. There isn't a thoughtful moral anti-war argument to be had here. As a whole, the orcs are a rather personality-free race of creatures. Sure they talk a big game and have some curious decorative flourishes (tusk piercings!), but to this Warcraft layman, they come across like any other barbarian group. Early on I was mentally thinking of the Klingons from Star Trek and then I concluded that this was an inappropriate comparison because Klingons have memorable personality and culture. The actor who gets my greatest sympathy is Paula Patton (Baggage Claim) as the half-orc/half-human outcast, Garona. First of all, given the immense physicality of the orcs, I imagine any form of fornication with a human would prove highly fatal. It would be like an elephant mating with a labradoodle. Trapped between the two groups, Patton is painted green and given a lesser underbite that is reminiscent of snake fangs. When realized on an actual person, as opposed to a creation from the realm of computer effects, it's not terribly convincing. Patton tries her best to speak all her gobbledygook lines of dialogue but the reverse vampire fangs make it awfully difficult for her to properly enunciate. She looks too ridiculous to be an effective character, and the fact that she is pushed into a romance with a human without any sense of setup beyond the universal law that pretty people should be together with pretty people is deflating. Why does the only female character of significance have to be shoved into a romantic subplot? Your poor poor jaw muscles, Paula Patton. At least you didn't have to wear a metal bikini. Yet. With all of this stated, Warcraft is not a horrible movie, and credit for that should go to Jones as a director. In the same token, Jones is also the co-writer so I guess he also deserves blame for the storytelling shortcomings. Jones very smartly limits his camera movements. Character will move within the frame but usually the camera point is fixed, which allows the focus to be more attuned to what exists within the frame. This is especially helpful during battles and with the multitude of CGI elements. This stylistic choice allows the film to be more visually immersive. The fighting sequences do get a tad repetitive as one guy with a sword or club runs at another guy. I saw Warcraft in 3D at my screening and I might actually recommend people see it this way, which is something I hardly ever do. It's not that the 3D elements will compare to the experiences of modern standard-bearers like Life of Pi or Gravity, but it's a pleasurable experience and the presentation of the visuals is crisp. I was worried about the usual effect of the glasses darkening the onscreen image and this was not the case at all. From a purely visual standpoint, Warcraft is worth watching. The special effects vary between photo-realism and extended video game cut scene, but overall the visuals are colorful and fun and easy to discern. When the action heats up, you'll be able to cleanly follow what is happening to whom. If only this same clean precision had been applied to the half-baked screenplay. I will admit I have never played a single minute of the Warcraft game. I am not familiar with any of the worlds, characters, or races beyond what I have watched from other more popular fantasy films and series. I am not coming at this movie from the perspective of a fan who has been eagerly awaiting the holy grail of video game movies. If you're willing to look past its flaws, mainly its bereft characterization and haphazard plotting, then I'm sure there is a forgivable and sporadically entertaining movie here. As a man who has reviewed over 20 films directed by notorious video game adapter Uwe Boll, this is no unbridled suckfest. However, it's still too limited for its own good. The visuals can be immersive but the story is certainly not, and there are numerous points where the movie just actively forgets that an audience requires servicing. You need to introduce us to the characters, allow us to get a sense of who they are, their internal and external battles, their relationships with one another, their significance to the plot, and relevant history and culture as it relates to the larger story. In a rush to visit all the different game settings, the movie's screenplay zips along when it should be building its narrative. At times it feels like a travelogue with very exotic locals. Warcraft is a repository of incidents and events, almost as if it were awaiting a user to plug in and control the storyline and provide meaning. It's no unmitigated disaster but I don't believe this was worth the five-year price for Jones. Nate's Grade: C
Nate Zoebl
Super Reviewer
Warcraft Quotes
| | |
| --- | --- |
| Anduin Lothar: | FOR THE ALLIANCE!!!!! |
| Anduin Lothar: | For the alliance! |
| | |
| --- | --- |
| Medivh: | If love is what you need, you must be willing to travel to the ends of the earth for it. |
| Draka: | |
| | |
| --- | --- |
| Durotan: | We fight together or we die together. |
| Draka: | |
| | |
| --- | --- |
| Durotan: | For orcs, there is no other life but war, but with the humans, there could be. |
| Draka: | |