What Would Jesus Buy?
(2007)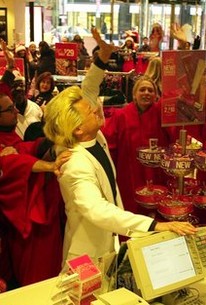 What Would Jesus Buy? Videos
What Would Jesus Buy? Photos
Movie Info
Bill Talen is a New York-based activist and performance artist who since the late '90s has won notoriety for his character Rev. Billy. Rev. Billy is a wildly charismatic street preacher and self-appointed leader of the Church of Stop Shopping, who began his career speaking out against the gentrification of New York City, the forced renovation of 42nd Street, and his favorite symbol of the evils of international marketing, the Disney Store. Since then, Rev. Billy has expanded his targets to include a number of firms (including Starbucks Coffee and several fast food chains) who engage in unfair labor practices and exploit Third World resources for profit; he also performs with a full gospel choir and a four-piece band as they spread the message of overcoming the consumer culture, speaking with your dollars and questioning what advertising and corporate spokespeople have to say. While Talen's routines started out as comic street theater, he's become recognized as an effective (if deliberately eccentric) advocate for economic justice, and filmmaker Rob VanAlkemade offers an in-depth look at the phenomenon of Rev. Billy in his documentary What Would Jesus Buy? Produced in part by Morgan Spurlock, What Would Jesus Buy? received its world premiere at the 2007 South by Southwest Film Festival. ~ Mark Deming, Rovi
Rating:
PG (for thematic material and brief mild language)
Genre:
, ,
Directed By:
Written By:
In Theaters:
On DVD:
Runtime:
Studio:
Watch it now
News & Interviews for What Would Jesus Buy?
Critic Reviews for What Would Jesus Buy?
Audience Reviews for What Would Jesus Buy?
½
I liked it...I couldn't figure out if Reverend Billy is completely sincere in his evangelical preaching style or if it's supposed to be ironic. He seems to have a cult status with wise-ass college students, judging by the audience members at his appearances. Makes some good points in a criazzzy style. Worth a watch.
Dimity Palazzola
½
I love Morgan Spurlock and Reverend Billy and the Church of Stop Shopping! Think they're doing good work. "What Would Jesus Buy" is a documentary that examines the commercialization of Christmas in America and the negative effects it has on American consumers as well as the sweatshop workers who produce most of these products. Meanwhile, the good reverend and his gospel choir tour the country preaching the gospel of frugality and denounce the worship of products. They of course, get kicked out of or arrested at each place they enter. The reverend has even been banned form ever Starbucks in the country because of his antics. Also in true Spurlock fashion, this film has a comedic twist so that viewers are still entertained while informed. WWJB isn't really an eye-opening documentary if you've already heard about the sweatshops that make shoes and most of the nation's clothing. And perhaps the saddest part of the film is when the choir read what critics have been saying about them. Some of the consumers interviewed even admitted that they didn't care where their products came from or who suffered making them, as long as they got their products. This doc is both hilarious and depressing but well done and worth the watch.
Remi Logan
Super Reviewer
½
This is an eye opening documentary revealing the psychotic addiction American consumers seem to have no control over. Although quite silly at times, this film really does open your eyes to the crazyness of the situation. I highly recommend viewing because not only is this documentary informative, it's entertaining too!
DJ Jackson
Discussion Forum
Discuss What Would Jesus Buy? on our Movie forum!
News & Features