Who's That Knocking at My Door?
(1967)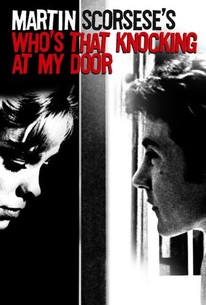 Movie Info
Who's That Knocking At My Door is the directorial debut for Martin Scorsese, who also wrote the screenplay for this independent film. J.R. (Harvey Keitel) and his teenage pals hang around their neighborhood in New York's Little Italy. The boys pass their time drinking, cruising and picking up "broads" for sex while aspiring to a married life to the stereotypical virginal "good girl." On the Staten Island Ferry, he meets an educated, well spoken cinema buff (Zina Bethune). When she makes an amorous pass at J.R., he is shocked by her forward behavior. He and his buddies run off to a small town, where the loutish urbanites are uncomfortable out of their element. A remorseful J.R. tries to patch things up with the girl, who was the victim of rape earlier in her life. She rejects J.R. and ends the relationship because of his immaturity and mood swings. To satisfy the people who bankrolled the project, Harvey Keitel was flown to Holland where Scorsese was making an advertisement. A gratuitous sex scene was filmed with Ann Colette as part of an erotic dream sequence. Scorsese hated the end result of this forced insertion. He would go on to become one of America's best cinematographers in the years to follow. Harvey Keitel would also become a highly sought after actor in many films.
News & Interviews for Who's That Knocking at My Door?
Critic Reviews for Who's That Knocking at My Door?
Audience Reviews for Who's That Knocking at My Door?
½
scorsese's first feature length film is largely experimental, but the film had wonderful dialogue and possessed a certain charm to it that helps us to recognize the things about this film that are really the roots of scorsese's future greatness. really only truly engaging to the hard core scorsese fan, but the film is benefited by the short running length and solid performances.
A convoluted mess, but still visually interesting.
Tim Salmons
Super Reviewer
½
Harvey Keitel yapping on about The Searchers and other westerns was worth the entire movie, not to mention that it's Martin Scorsese's most cultured film. It's sort've brutal for being a light-hearted drama/romance. The shot after the opening credits of Keitel's gang beating up a teenager was interesting in that it is horriftingly nonchalant. A great debut in short.
Conner Rainwater
Super Reviewer
Who's That Knocking at My Door? Quotes