Xtro
(1983)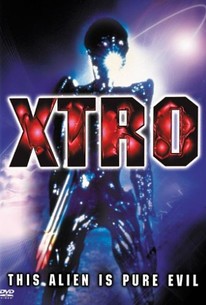 Movie Info
For those with a taste for the repugnant comes this gory blood-and-guts fest that tells the horrific story of a British fellow who gets kidnapped by aliens and three years later is returned carrying infectious spores that have transformed him into a kind of crab thingy that causes all kinds of perverse sexual and violent mayhem. ~ Sandra Brennan, Rovi
Audience Reviews for Xtro
½
Decent Alien Rip-off, Xtro doesn't cover new ground in terms of alien themed horror films, but is a fun little B movie that boasts some memorable moments. However I have seen far better rip-off of Alien and Xtro though somewhat entertaining, leaves a lot to be desired in terms of what it could have been. I enjoyed the film for what it was, but felt it could have been a bit better. The performances were an aspect that could have greatly improved, however the gore effects is where the film excelled and they were quite good considering the budget of the film. Sci Fi horror fans may enjoy the camp value of Xtro, but they will surely feel that in terms of an Alien type horror yarn, it is a weak affair that is really only worth checking out once. Unlike its horrible sequels, this was actually quite entertaining and decent despite the fact that it was weak compared to others in this genre. The best way to view this film is as a guilty pleasure. The effects are the best thing about the film and it overcomes its slightly thin plot. Gore fans may enjoy I, but to those looking for great horror that is memorable and thrilling, you'll sadly be disappointed. This is a decent picture that delivers good effects, but leaves a lot to be desired from its weak plot. Expect something mildly amusing, and you may like it. I enjoyed the film, but I also felt it could have been much better as well, and there was plenty of room for improvement.
Christian C
Super Reviewer
A bit of low-budget Alien fun from Britain. Not a great film of course but it has enough memorable moments to it, from a bit of Alien rape, cheesy gore effects, a boy able to give life to his toys and Marym d'Abo in the nude! Not as good as Inseminoid, but worth a look if you enjoy cheesy Alien films.
Xtro Quotes
There are no approved quotes yet for this movie.