Zazie dans le métro (Zazie in the Subway)
(1960)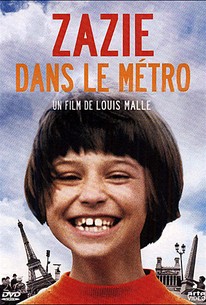 Zazie dans le métro (Zazie in the Subway) Photos
Movie Info
The lighthearted comedy Zazie Dans Le Metro, an early directorial effort from Louis Malle, stars Catherine Demongeot as a 12-year-old girl named Zazie. Zazie is forced to travel to Paris when her mother wants to rendezvous with her lover. Zazie is left in the care of Uncle Gabriel (Philippe Noiret), an eccentric transvestite. Both with him, and on her own, Zazie meets a variety of unusual city dwellers, and gets into a series of misadventures that reach their greatest level of wackiness during a café food fight. The film is based on a novel by the distinguished French author Raymond Queneau.
News & Interviews for Zazie dans le métro (Zazie in the Subway)
Critic Reviews for Zazie dans le métro (Zazie in the Subway)
Audience Reviews for Zazie dans le métro (Zazie in the Subway)
½
Borrowing stylistically from both silent film and cartoons, this visit to Paris circa 1960 is filled with zany wacky fun, yes, but often the feeling that remains is that the effort was a trifle forced, and perhaps disguising a latent anger verging towards hysteria and even violence. This tone permeates this vital look at postwar France (15 years on) and is a necessary look therefore at the psychological remnants of occupation.
Kevin M. Williams
Super Reviewer
½
Young Zazie goes to Paris and stays with her exotic dancer uncle (really!); the only thing she wants to see is the Metro, but the workers are on strike, so she explores the city instead. An utterly absurd comedy full of editing tricks, nonsense wordplay, and bizarre incidents (when they climb the Eiffel Tower they find a sea captain and a polar bear on top). If you could somehow cross-breed Charlie Chaplin and Luis Bunuel, this is the movie the mutant hybrid would direct.
Louis Malle delivers one heck of a film in Zazie dans le metro.
Zazie arrives in Paris wanting to see the metro; unfortunately, the workers are on strike. So, instead she runs amuck throughout the rest of Paris. That about sums up the story for this picture. It doesn't sound like much, and it really isn't, but for a film that is just under 90 minutes it delights from beginning to end.
Where there is a lack of depth in the story and the characters, the film makes up for in style. The pacing is frantic and so are the camera tricks. Scenes speed up and down, along with the background music, while stop tricks move characters around in the blink of an eye. All this is what makes the film as fun as it is and it eventually leads up to one heck of a bizarre finale. The multiple chase scenes are also worthy of note.
Catherine Demongeot is a blast to watch as the foul mouthed Zazie and the rest of the cast find a way to blend right in with the rest of the picture.
Zazie dans le metro can be a little annoying with its style and humor, but overall, it is a recommendable French comedic film.
Zazie dans le métro (Zazie in the Subway) Quotes
There are no approved quotes yet for this movie.