Zelary
(2004)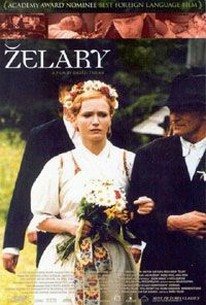 Movie Info
A man form a rural mountain area is brought to the hospital with serious injuries and desperately needs a transfusion. Eliska is the only one with the same blood type. Her blood saves his life, and a connection is formed between the two of them that becomes an extraordinarily strong relationship.
Critic Reviews for Zelary
Audience Reviews for Zelary
½
Beautiful cinematography, good acting, and a very good screenplay. The disparate entry of several sub-texts here and there are confusing at times. Worth watching.
bill kuhlman
Zelary Bravo! Beautifully filmed love story that invites you inside the homes and lives of the good people of Zelary during WWII. This is more than the story of a city girl forced into hiding in a remote mountain community in order to save herself from the Gestapo. Here in this picturesque mountain region, the filmmaker introduces us to endearing characters, heros and some villains too and reminds us, I think, that the human condition is a common thread that connects us all, regardless of who we are, where we live or what dogma/doctrine we are running toward or away from. Visually a work of art and certainly the best looking film that I've seen in ages. Pappy Bob's pedestrian opinion: A simple, well-told, universally interesting tale complimented by exquisite cinematography.
Bob Hartman
½
From the Czech Republic came Zelary a masterful war drama showing heart-breaking scenes, no wonder it was nominated for best Foreign Language movie in 2004.The story was about a young medical student Eliska, who was a member of the Czech resistance during WWII. When the Gestapo captured one of her friends, she must hide and went with Joza to the mountains, a man she saved his life by giving him a blood transfusion. As part of her new identity, she must marry Joza, to be accepted in the village.The story showed her adaptation in this beautiful mountain village, and her growing attachment and love she felt for Joza..Zelary showed beautiful cinematography, marvelous music and excellent directing and great acting of Czech actors.
Daisy Maduro
Super Reviewer
Zelary Quotes
There are no approved quotes yet for this movie.
Discussion Forum
Discuss Zelary on our Movie forum!