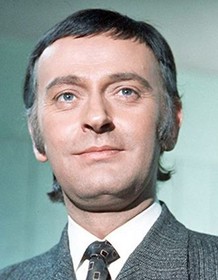 Barrie Ingham
Highest Rated: 90% The Day of the Jackal (1973)
Lowest Rated: 43% Dr. Who and the Daleks (1965)
Birthday: Feb 10, 1934
Birthplace: Halifax, Yorkshire, England, UK
Barrie Ingham, born February 10, 1934, is an English actor known for his work in television, film, and on stage. Ingham got his start in England's West End working with many prominent production companies such as the Royal Shakespeare Company, Mermaid Theatre Company, and the Royal National Theatre before eventually making the leap overseas to Broadway. Ingham was very successful on Broadway, appearing in musicals such as "Copperfield," and opposite Angela Lansbury in "Gypsy: A Musical Fable." Science fiction fans know him for his role as Paris in the massively popular cult series "Doctor Who: The Myth Makers" and his role as Alydon in the subsequent Doctor Who film, "Dr. Who and the Daleks," both in 1965. Ingham is actually one of only 10 other actors to have a speaking role in both the "Doctor Who" and "Star Trek" franchises, with his part as Danilo O'Dell in "Star Trek: The Next Generation" in 1989. After many years playing bit parts and small roles in film and television, Ingham made a return to the stage with his role as Sir Danvers Carew in the Broadway musical version of "Jekyll & Hyde" in 1997 and stayed with the production until its end four years later.
Photos
A CHALLENGE FOR ROBIN HOOD, from left: Barrie Ingham as Robin Hood, Gay Hamilton as Maid Marian, 1967. TM & Copyrght ©20th Century Fox. All rights reserved
A CHALLENGE FOR ROBIN HOOD, Barrie Ingham, 1967, TM & Copyright ©20th Century Fox Film Corp. All rights reserved.
A CHALLENGE FOR ROBIN HOOD, from left: Barrie Ingham, Gay Hamilton, 1967. ©20th Century-Fox Film Corporation, TM & Copyright
A CHALLENGE FOR ROBIN HOOD, Barrie Ingham, 1967. ©20th Century-Fox Film Corporation, TM & Copyright
THE GREAT MOUSE DETECTIVE, Vincent Price as Prof. Ratigan (top), Barrie Ingham as Basil, Val Bettin as Dr. Dawson, 1986. (c)Buena Vista Pictures