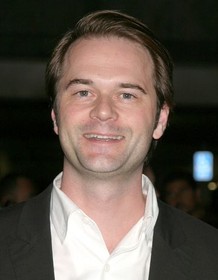 Tom Vaughan
Highest Rated: 90% Starter for 10 (2006)
Lowest Rated: 6% So Undercover (2012)
Birthday: Sep 5, 1969
Birthplace: Glasgow, Scotland, UK
Tom Vaughan grew up making films with his friends and has since become a successful film and TV director. After studying drama at the University of Bristol, Vaughan moved to London and began working as a director on several TV documentary series. By the end of the '90s he had written and directed the well-received short film "Truel" and helmed several episodes of the long-running British TV series "Cold Feet," which follows the ups and downs of three Manchester couples. He spent the early 2000s directing TV movies like the two-part BBC crime drama "Final Demand" and filming commercials for internationally-known advertising agency Saatchi & Saatchi. After directing the BBC miniseries "He Knew He Was Right," adapted from author Anthony Trollope's 1869 novel about a crumbling marriage, Vaughan made his feature debut in 2006 with the modestly successful "Starter for 10," which stars James McAvoy as a trivia-obsessed college student who wins a coveted spot on a prestigious TV quiz show. Since then Vaughan has directed several high-profile Hollywood films: 2008's "What Happens in Vegas," starring Ashton Kutcher and Cameron Diaz as two mismatched newlyweds; "Extraordinary Measures," which follows one family's desperate attempts to find a cure for a rare disease; and pop singer Miley Cyrus' 2012 detective comedy "So Undercover."
Photos
SO UNDERCOVER, Director Tom Vaughan, 2012. photo: Saeed Adyani/©Weinstein Company
EXTRAORDINARY MEASURES, director Tom Vaughan, on set, 2010. ph: Merie Wesimiller Wallace/©CBS Films
STARTER FOR TEN, director Tom Vaughan, 2006. ©Picturehouse
Tom Vaughan, Cameron Diaz and Ashton Kutcher on the set of "What Happens In Vegas"
WHAT HAPPENS IN VEGAS, Cameron Diaz (third from left), director Tom Vaughan (front center), Ashton Kutcher (right), on set, 2008. TM & ©20th Century Fox. All rights reserved