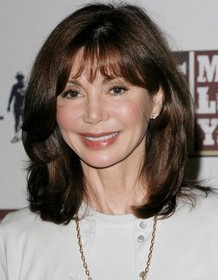 Victoria Principal
Highest Rated: 80% The Life and Times of Judge Roy Bean (1972)
Lowest Rated: 17% Vigilante Force (1976)
Birthday: Jan 3, 1950
Birthplace: Fukuoka, Japan
Fondly remembered for her role as one of television's most beloved "good girls," Pamela Ewing, on the long-running primetime soap, "Dallas" (CBS, 1978-1991) actress Victoria Principal was a petite, wide-eyed leading actress of TV, whose luxuriant reddish-brown hair, angular, sculpted features and olive complexion give her a certain exotic look. A long-time favorite of celebrity gossip columnists, Principal's face was a regular sight on tabloid and movie magazine covers for many years, having dated such high profile men as Frank Sinatra, Desi Arnaz, Jr. and most famously, Andy Gibb. Due in no small part to her own much envied face and figure, Principal also found success marketing her beauty products and exercise videos/books.
Photos
EARTHQUAKE, Victoria Principal, 1974.
EARTHQUAKE, producer, director Mark Robson, Victoria Principal, on-set, 1974
EARTHQUAKE, Victoria Principal, George Kennedy, 1974.
EARTHQUAKE, Marjoe Gortner (left), Victoria Principal, 1974
VIGILANTE FORCE, Jan-Michael Vincent, Victoria Principal, 1976
EARTHQUAKE, Genevieve Bujold (left), Victoria Principal (leather Jacket), George Kennedy (policeman), 1974
THE NAKED APE, from left, Johnny Crawford, Victoria Principal, 1973
THE NAKED APE, from left, Johnny Crawford, Victoria Principal, 1973
LIFE AND TIMES OF JUDGE ROY BEAN, Paul Newman, Victoria Principal, 1972
THE NAKED APE, from left, Johnny Crawford, Victoria Principal, 1973
THE NAKED APE, Victoria Principal, 1973
THE NAKED APE, from left, Victoria Principal, Johnny Crawford, 1973
THE NAKED APE, Victoria Principal, 1973
THE LIFE AND TIMES OF JUDGE ROY BEAN, Victoria Principal, 1972
Filmography
Movies
TV
Credit

30%

No Score Yet

Titans
Gwen Williams (Character)

2000

No Score Yet

65%

Family Guy
Dr. Amanda Rebecca (Guest Voice)

1999-2000

No Score Yet

No Score Yet

The Practice
Unknown (Guest Star)

2000

No Score Yet

No Score Yet

Providence
Unknown (Guest Star)

2000

No Score Yet

No Score Yet

Just Shoot Me
Roberta (Guest Star)

1999

No Score Yet

No Score Yet

Chicago Hope
Unknown (Guest Star)

1998

No Score Yet

No Score Yet

Dallas
Pamela Barnes Ewing (Character)

1978-1987

1989

No Score Yet

No Score Yet

Banacek
Brooke Collins (Guest Star)

1974

No Score Yet

No Score Yet

Love Story
Karen (Character)

1973