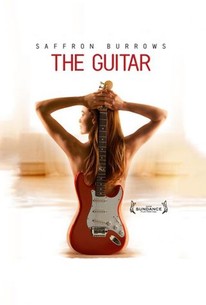 The Guitar
2008, Drama/Romance, 1h 35m
18 Reviews
1,000+ Ratings
Rate And Review
Movie Info
A woman with only a few months to live pursues her dreams.
Audience Reviews for The Guitar
I don't know what this movie was trying to prove, except maybe that ownership of material things is the answer to all lifes problems. Sentimental bullshit. Even a lesbian scene with Paz de la Huerta can't save this corny abomination. Sucks. That is all.

saffron burrows comes across well, as a women given two months to live, so off she goes and lives in a lift spending money she wont have, and as she's dying sees she wont be around to cover it, the guitar of the title is a guitar she obsessed over as a kid, and one of the things she does is get a similer guitar, and many other things, she indulges in, amoung this 2 affairs one a delivery man and a pizza delivery girl, the film works well, burrows in it throughout, is entertaining, this isnt a film about watching a women die, but watching her live her last months in a diferent way, so not a depressing film, and all roungd a entertaining watch

Well, here ya go. This would be me in a nut shell if I found out that I only had 30-60 days left to live.....that is, if I didn't have kids and a husband that would have to inherit my debt. This girl totally decided to live out her dream before it was too late. I can't even imagine a better way to go out. Nice little twist there at the end. It probably doesn't hurt that I am a sucker for a decent music inspired film.

"The Guitar" starts with Melody Wilder(Saffron Burrows) being diagnosed with inoperable cancer by her doctor(Janeane Garofalo) and given probably a month to live. To add insult to a terminal diagnosis, she is laid off and dumped by her boyfriend(Reg Rogers) in quick succession. While contemplating a shortcut to oblivion, she instead notices an ad for a short-term luxury apartment to which she sinks her savings and severance check into. "The Guitar" is a modest movie that is buoyed by a very fine performance from Saffron Burrows. Most people with little time left to live might be inclined to travel to a sunny beach somewhere but Melody is a New Yorker and a New Yorker's perfect fantasy is a spacious apartment. And that's not the only fantasy explored here. But after a while, it becomes clear that there are only two directions this movie can go in. In the end, it chooses the wrong path which leads the story to become more preposterous as it goes on as fantasy becomes more the rule than any reality.
See Details