The Best Man
(1964)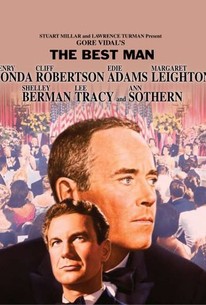 AUDIENCE SCORE
Critic Consensus: No consensus yet.
Movie Info
Gore Vidal adapted his biting and bitter political satire from his hit Broadway play. Franklin J. Schaffner directed and Haskell Wexler provided the sharp-edged cinematography. The story concerns the political back-biting and smear politics involved in a presidential election year scramble by potential presidential party nominees. Lee Tracy (in an Oscar-nominated performance and his final screen role) is Art Hockstader, a dying president who refuses to throw his support behind any of his party's presidential hopefuls. Hoping to get the nod as the party's presidential candidate is liberal do-gooder William Russell (Henry Fonda). His wife Alice (Margaret Leighton) wants to get a divorce from Russell but is delaying the divorce proceedings until after the party convention. Opposing Russell for the nomination is Joe Cantwell (Cliff Robertson), a slick and unscrupulous political monster who will use any bit of dirt to get ahead in the party. When he discovers that Russell once suffered from mental problems, he threatens to use it against him. Russell then finds out that Cantwell once had a homosexual relationship. Russell, who abhors smear politics, now has to decide whether to use the information against Cantwell or bury the secret and risk losing the nomination.
Critic Reviews for The Best Man
All Critics (2) | Fresh (2) | Rotten (0)
It's hard to be educational while being poignant, but this film does both easily.
Mostrando como os bastidores da política podem ser sujos, o filme conta com ótimas atuações de Fonda, Robertson e Tracy (indicado ao Oscar) e, escrito por Gore Vidal, traz diálogos afiados e inteligentes.
July 25, 2003 | Rating: 4/5
Audience Reviews for The Best Man
½
The Best Man starts off with all the promise of being a biting political satire minus the humor. As it goes on it looks like its going to draw blood, but by the end you're drenched in saliva from getting gummed for the last 20 minutes. This movie had a great cast and a simple premise with plenty of minute details that could've made the movie but a weak third act keep The Best Man from being a Henry Fonda movie you've actually heard of. Worth the watch though.
Michael Gildea
Super Reviewer
A great movie from 1964 that shows what goes on behind the door in politics and the running for president of the United States/ Henry Fonda is Mr. Nice Guy do everything by the book, Cliff Robertson played the cutthroat role. Its presidential Primary time, watch what both do to become the next president of the United States. What I found interesting was the statement made in the movie we don't want another Nixon problem.. Remember this was filmed in 1964 long before Nixon became president. Another interesting item was the meeting between both candidates where one promises the other anything to stop running against him, reminded me of the meeting between Hilary Clinton and Obama. Film in B&W which was another surprise for 1964, Watched this one instantly on Netflix, which is a awesome deal, video quality as good as having the DVD. 4 Stars for this one.
Bruce Bruce
Super Reviewer
Great political film that really translates into politics today. Its about 2 men running for the president, Fonda is a rich intellectual who uses reason to get ahead. Robertson is a brute who uses fear and threats to get ahead. It's pretty much Bush vs Kerry. The acting is great and Gore Vidal's script is flawless and Wexler's cinematography is stunning as usual.
cody franklin
Super Reviewer
The Best Man Quotes
There are no approved quotes yet for this movie.