A Christmas Carol
(1938)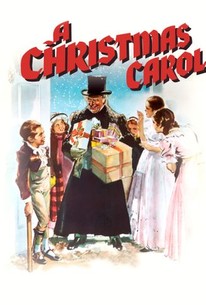 Movie Info
One of the better versions of the Dickens classic features Reginald Owen as Scrooge, real-life relatives Gene, Kathleen and June Lockhart as the Cratchit family, and Terence Kilburn as Tiny Tim.
Critic Reviews for A Christmas Carol
Audience Reviews for A Christmas Carol
Alastair Sim's 1951 version has it's devotees,but many consider this 1938 version a favorite of one of the screen adaptations based on Charles Dickens' classic novel. One of the reasons why is for counting actress June Lockhart,the daughter of Gene Lockhart,who made her theatrical debut at the age of 12,as one of the children of Bob and Emily Cratchit(played by her real life parents Gene and Kathleen Lockhart). Acclaim British actor Reginald Owen stars as Ebenezer Scrooge,the Christmas-hating curmudgeon who finally gets into the spirit of the Holiday season.
Mister Caple
Super Reviewer
This is film number 7 of 30, the first and original Christmas Carol. Thought I have seen many different versions of this film, this is the first time I have seen this edition, and I must say it's the best by far, old school black and white film. Scrooge is played as good as one can play that part, the ghost are not meant to be scary and there not. This version is an excellent family film that can be watched by all. 5 Stars
Bruce Bruce
Super Reviewer
A story like this that has been made into countless film adaptations can be a little difficult to discern from all the others. When it comes down to it, all we really have to differentiate one Scrooge from another is the acting (and to a lesser extent, how the effects are handled) and just how many liberties the film-makers take with the original story by Charles Dickens. While a few liberties may have been taken in 1938's A Christmas Carol, the performances more than excuse this. Originally, Lionel Barrymore was meant to play Scrooge, reprising the role he had made famous through many radio productions throughout the 30s. When Barrymore had to back out of the role due to illness, Reginald Owen stepped in and the result is a memorable and iconic performance. The Lockhart family (Gene, Kathleen and June, for the first and only time they all appear in a film together) give us a sweet turn as the Cratchit family, and Barry MacKay as Scrooge's nephew Fred, is also quite good. If you're looking for an infusion of yuletide spirit, look no further.
Devon Bott
Super Reviewer
A Christmas Carol Quotes
There are no approved quotes yet for this movie.