Dinner at Eight
(1933)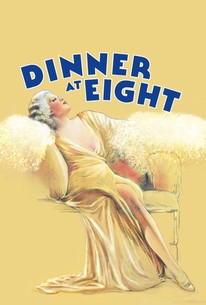 Movie Info
In this comedy/drama, social butterfly Mrs. Oliver Jordan arranges a dinner party that will benefit the business of her husband. Nothing goes as planned, due to various suicides, double-crosses, compromises, fatal illness, and servant problems. In spite of all this, however, dinner is served precisely at eight.
Critic Reviews for Dinner at Eight
Audience Reviews for Dinner at Eight
This is the story of socialites, their dramas and affairs, as they prepare for a dinner party. The main conflict of this story sneaked up on me, and by the time I was aware that the eponymous dinner would be either an afterthought or never appear, I had already condemned this movie for its over-heavy exposition and its dull characters/caricatures. It is true that there are some compelling performances, but I couldn't find why we were getting to know them or what the raison d'etre was until much too late. Even now I'm not sure. Overall, this film's poor structure makes it difficult to like.
Jim Hunter
Super Reviewer
After you get through the first half of the movie, which is really talky and long, it gets good. It's dramatic and exciting, and the story has a great realistic ending. The actors are good too. This was a good movie.
½
Incredibly good play-turned-movie adaptation. An all-star cast, with exceptional performances by John Barrymore, holding up the tragic end of the balance, and Marie Dressler delivering the best laughs. A must-see just for the great weave of comedy and tragedy.
Lanning : )
Super Reviewer
Dinner at Eight Quotes
| | |
| --- | --- |
| Max Kane: | "Oh, no. l'm just telling you the truth... You know, you never were an actor. You did have looks, but they're gone now. You don't have to take my word for it. Just look in any mirror. They don't lie. Take a good look. Look at those pouches under your eyes. Look at those creases. You sag like an old woman! Get a load of yourself! Wait till you start tramping around the offices, looking for a job, because no agent's going to handle you. Sitting in those anterooms hour after hour, giving your name to office boys that never even heard of you. You're through, Renault! You're through in pictures and plays and vaudeville and radio and everything. You're a corpse, and you don't know it. Go get yourself buried! |
| Max Kane: | Oh, no. l'm just telling you the truth... You know, you never were an actor. You did have looks, but they're gone now. You don't have to take my word for it. Just look in any mirror. They don't lie. Take a good look. Look at those pouches under your eyes. Look at those creases. You sag like an old woman! Get a load of yourself! Wait till you start tramping around the offices, looking for a job, because no agent's going to handle you. Sitting in those anterooms hour after hour, giving your name to office boys that never even heard of you. You're through, Renault! You're through in pictures and plays and vaudeville and radio and everything. You're a corpse, and you don't know it. Go get yourself buried! |
| | |
| --- | --- |
| Carlotta Vance: | "That's the unfortunate thing about death. It's so terribly final. Even the young can't do anything about it." |
| Carlotta Vance: | That's the unfortunate thing about death. It's so terribly final. Even the young can't do anything about it. |
| | |
| --- | --- |
| Kitty Packard: | I was reading a book the other day. |
| Carlotta Vance: | Reading a book? |
| Kitty Packard: | Yes. It's all about civilization or something, a nutty kind of a book. Do you know that the guy said that machinery is going to take the place of every profession? |
| Carlotta Vance: | Oh, my dear, that's something you need never worry about. |