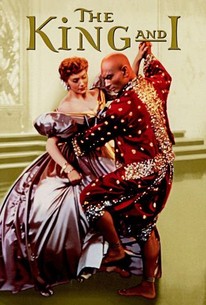 The King and I
1956, Musical, 2h 13m
27 Reviews
50,000+ Ratings
Where to watch
In Theaters
Rent
Rate And Review
Movie Info
In this film adaptation of the Rodgers & Hammerstein musical, widowed Welsh mother Anna Loenowens (Deborah Kerr) becomes a governess and English tutor to the wives and many children of the stubborn King Mongkut of Siam (Yul Brynner). Anna and the king have a clash of personalities as she works to teach the royal family about the English language, customs and etiquette, and rushes to prepare a party for a group of European diplomats who must change their opinions about the king.
News & Interviews for The King and I
Audience Reviews for The King and I
Is it stereotypical and a bit overwrought? Of course. Did Yul Brynner wish that he didn't have to reprise this role on stage umpteen times? I'm sure he would have...but I suppose the money was great. Brynner is wonderful at projecting both the strengths and limitations of the King.

An English teacher takes up residence in the King of Siam's palace. There are some films that succumb to what I call the "D.W. Griffiths Effect." Lawrence of Arabia is the first one that pops into my mind. The film is racist in our time but isn't in its own. So the film becomes stuck in its own era, unable to transcend to the timeless. Few films are so well-made and of themselves delightful that a conscientious critic can both enjoy and abhor it at the same time. The King and I is one of the latter. Certainly subject to the D.W. Griffiths Effect, with Yul Brynner speaking in a mockery of an Asian accent and little Asian kids short-stepping about in the kind of cuteness that Westerners endow the East, The King and I is nevertheless charming, and Brynner is as charismatic and wildly sexy as ever. It's a likeable film, harmless in its simplicity and eminently hummable. The best that can be said of Deborah Kerr is that she is able to move in a massive dress. Overall, there are some people who argue that the D.W. Griffiths Effect is bullshit, that we should judge a film based on its own time, and they must love this film.

Great musical if not somewhat racist with Yul Brynner playing an Asian king.

The Remake was better just like the Original one.
See Details