Posse
(1975)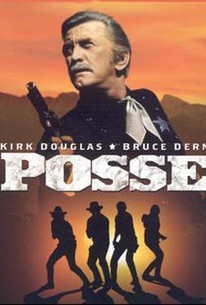 Movie Info
In this offbeat western, Kirk Douglas stars as Howard Nightingale, a U.S. marshal who attempts to energize his political career by capturing fugitive Jack Strawhorn (Bruce Dern).
Rating:
PG
Genre:
,
Directed By:
Written By:
In Theaters:
On DVD:
Runtime:
Studio:
Paramount Pictures
Audience Reviews for Posse
Good guys vs. bad guys with a twist. If you've ever wondered whether Bruce Dern could act, see this movie. If you haven't, see the movie anyway, it's one of the all-time greats.
Kirby Palm
½
Douglas and Dern are magnificant together as cat and mouse. The seedy political satire at the heart of the movie is heavy handed like a pimp slap. Awesome!
R.John Xerxes
[b]Babel 7.2/10 [/b]3 stories coupled together with Connections logic. The tourists and illegal immigrant stories tied together pretty well but the Japanease segment didn't hook to them well at all and seemed out of place. It is a way of making a full length movie using material that wouldn't make one by itself and it appeals to anyone who can't focus for more than a few minutes on a subject. The acting is good overall. My favorite story was the tourists. [b]Clerks II 8.3/10 [/b]The humor is outrageous and doesn't always work, but they get points for always going for the laugh at almost any cost. Emily the Mule or whatever was out too far for me. I would flip burgers for Rosario Dawson for free. [b]Kinky Boots 7.0/10 [/b]Going for the kink in straight-faced British style, it works and yet it may have played it a little too safe. Ejiofor or whatever his name is a helluva drag queen. It didn't make me want to wear thigh boots but they're a wonder to look at! [b] Posse 7.9/10 [/b]An old school Western for the most part, Posse departs about midway and takes on some political overtones. Some of the smaller roles seemed like purposeful caricatures and I loved the turnabout at the end. A good story in the Western style. [b]Ultraviolet 5.2/10 [/b]You know a movie is in trouble when the 'making of' on the DVD can't congratulate the filmmakers enough. I'm not quite so down on it compared to most, but I was put off by odd things. Such as why they often blurred Violet's nose in closeups. I wondered if Milla didn't have a big zit on her nose on those days. I just couldn't figure out why they did that. What style is that? Also, if Violet is gonna terminate battalions of armed and armored troops, how do a few cuts on her hand level the results? The least they should've done is make her a mess by the end. The Ultraviolet comic books are fake, which I didn't know at the outset and now leaves a phony aftertaste. Milla looks great and is about the only reason to watch this, but she needs to work on her delivery.
Walt Huber
Posse Quotes
There are no approved quotes yet for this movie.
Discussion Forum
Discuss Posse on our Movie forum!