Blind Terror (See No Evil)
(1971)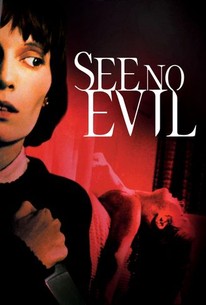 Movie Info
This riff on Wait Until Dark is a mixed bag but still manages to offer a few surprises. Brian Clemens' script starts off with a clever premise and offers some solid moments of suspense. Unfortunately, See No Evil begins to drift in its final third, when it introduces one too many plot complications to keep the identity of the killer a mystery. As a result, it loses track of its heroine (the viewer will lose track of how many scenes Mia Farrow spends stumbling around and shouting for help during the latter part of the film). That said, Farrow makes a likeable heroine and is surrounded by a professional cast turning in solid performances. Better yet, director Richard Fleischer gets plenty of opportunities to show off his directorial skills during the many setpieces and he's definitely up to the task: the scenes where Farrow faces off with the killer in her deserted house are staged effectively and make great use of sound as a tool for suspense. Ultimately, See No Evil is second-tier thriller material but it is made with enough skill to make a decent time-killer for anyone in the mood for a few thrills.
News & Interviews for Blind Terror (See No Evil)
Critic Reviews for Blind Terror (See No Evil)
Audience Reviews for Blind Terror (See No Evil)
½
Suspensesful but over-padded killer-thriller about a sleazy madman with a snazzy pair of cowboy boots who stalks and murders a wealthy family in their country home with the exception of the blind niece (Mia Farrow) who is left to survive on her own. It's effectively made with some gripping moments and the faceless killer will leave you guessing his identity till the end. There are some slow moments though and I found the ending a little unsatisfying. On the whole a pretty good thriller that deserves a watch but it's unlikely to appeal to fans of sleaze that like nothing left to the imagination, this is a bit more classy.
½
Mia Farrow is blind and she wants you to know it! She's going to stumble around and make so many fucking bizarre noises that you will think to yourself, that girl is certainly a blind woman in immense peril. Or maybe this is just a case of HORRIFIC OVERACTING in the service of a terrible, terrible movie, set out to take the least proactive handicapped heroine in movie history and torment the living hell out of her. Seriously, one titty flash on Sarah's part and this movie would have crossed the line from degrading to outright exploitative. Unfortunately, it's kind of hard to get worked up either way about her, because she's really a terrible character. She's fatally dull and whiny, and Farrow's awful British accent doesn't exactly ramp up the believability. I completely understand that a blind character wouldn't be doing karate backflips and beating the shit out of her assailants, but the high point of Sarah's ingenuity is making loud sounds with metal objects in the middle of a junkyard so that people hear her. Every other conflict she encounters is resolved with the intercession of another party. It's almost shameful. So basically this is trash. I think maybe the director came into this with some decent ideas, most apparent in the quick editing and intense camera work, but there was no saving this dog. This isn't even worth seeing for Mia Farrow fans; as I see it, this is by far her worst performance ever.
Drew Smith
Super Reviewer
Blind Terror (See No Evil) Quotes
There are no approved quotes yet for this movie.