Shaft
(1971)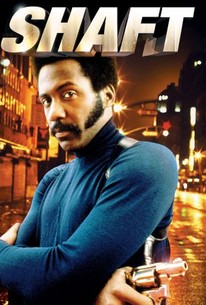 Shaft Videos
Shaft Photos
Movie Info
Shaft, a highly successful film, spawned an industry of sequels and imitations. The daughter (Sherri Brewer) of Bumpy Jones (Moses Gunn), a (white) gangster, has been kidnapped by a rival (black) gang. Bumpy hires private detective Shaft (Richard Roundtree) to find her. Shaft gets some assistance from Lt. Androzzy (Charles Cioffi) of the NYPD, who hopes to avoid a gang war, especially one which could lead to open racial warfare. The other person who helps him is Ben Buford (Christopher St. John), a black militant who also wants to avoid race war. Shaft is tough. Shaft is smart. Shaft succeeds. Isaac Hayes won an Academy Award for the title song.
Rating:
R (adult situations/language, nudity, violence)
Genre:
,
Directed By:
Written By:
In Theaters:
On DVD:
Runtime:
Studio:
MGM Home Entertainment
Cast
Critic Reviews for Shaft
Audience Reviews for Shaft
This was my first foray into the world of blaxploitation and boy was it an interesting experience. I can see why it was well received in it's day by both black and white viewers. Not only does it fulfill every preconceived notion that potential white viewers may have had about African-Americans, but it also is a movie very focused on blackness. Hell, in one scene Shaft's coffee isn't even black enough for him. It is infuriatingly stereotypical and empowering all at the same time. While this film does feature some rather interesting direction and a fairly engaging story, you cannot help but be mostly entertained by it's charming anachronisms. I mean where else are you going to find classic lines such as: "You got problems, baby?" "Hehe. Yeah, I got a couple of 'em. I was born black... and I was born poor."
Private eye John Shaft is hired by a crime boss to find his kidnapped daughter and gets caught up in a war between Harlem gangsters and the mafia. Shaft is the original "Blaxploitation" film, but as is always the case with progenitors of an entire genre it is actually rather tamer than you'd expect. It's certainly an exploitation film, but the violence never crosses the line into excess and Shaft is shown to be a tolerant and fair-minded man (no signs of the appalling sexism and homophobia that went on the taint this type of film). It's no surprise that Richard Roundtree was an icon to young black men in these post civil rights movement years; he is tough, stylish and never without the attention of women or money but more importantly, he is totally self-assured, fearless and not only doesn't take any shit from "the man", he is accepted and respected by all concerned. Taken out of context, it's a fairly standard 70s detective story, the real reason it stood out from the crowd being the fact that all of the heroes are black and Isaac Hayes' classic soundtrack. The humour is a little weak and lowbrow and there are a couple of hilariously pointless love scenes but as a whole it's a stylish and efficient thriller that is no world changer, but never disappoints either.
This is the first blaxploitation movie I saw, and it's my favourite. This movie is action packed and has a great story. Shaft really is cool.
Discussion Forum
Discuss Shaft on our Movie forum!
News & Features