Slaughter
(1972)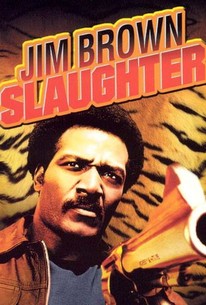 AUDIENCE SCORE
Critic Consensus: No consensus yet.
Movie Info
A typical gangland killing has an unusual outcome when the victim's son comes looking for justice in this violent blaxploitation action drama. Slaughter (Jim Brown) is a former Green Beret who is a decorated war hero, but while he's devoted his life to fighting for right, his father followed another path as a gangster. However, while Slaughter's dad was a career criminal, his mother played no part in his actions, and when they're both killed in a car explosion, Slaughter is determined to get revenge. Slaughter is convinced a rival crime boss ordered the bombing, and plans a daring raid where he kills the suspect. Slaughter is captured by police, and angry detective A.W. Price (Cameron Mitchell) tells Slaughter he had the right idea but the wrong man. Slaughter is persuaded to team up with undercover detectives Harry (Don Gordon) and Kim (Marlene Clark) as they travel to Puerto Rico in hopes of infiltrating the operations of hot-headed mobster Hoffo (Rip Torn). The cops have learned that Hoffo and his cronies are computerizing their operations and they're looking for hard evidence, but Slaughter is more interested in taking down Hoffo, and he'll do whatever it takes. The rivalry between Slaughter and Hoffo becomes all the more bitter when Slaughter becomes involved with Ann (Stella Stevens), the gangster's beautiful girlfriend. Featuring a dynamic theme song by Billy Preston, Slaughter was a major box-office hit in 1972 and one of the most popular films of Jim Brown's screen career; it spawned a sequel, Slaughter's Big Rip-Off, which appeared in 1973.
Rating:
R
Genre:
,
Directed By:
Written By:
In Theaters:
On DVD:
Runtime:
Studio:
MGM
Audience Reviews for Slaughter
½
Finally crossed one of the last classic Blaxploitation films off the list as part of a double disc set and I'm happy to have finally gotten around to it. Fun stuff from the opening theme to the last big show-down, wonderful stuff. Well worth a rental.
Bill Bryant
½
Slaughter is the new funky and fresh film from seventies that proudly displays sticking it to the man. However, this film does teach us one valuable lesson; even though the Man can take a vacation, he will always be the Man. Slaughter is not a great film, but I did have fair amount of fun with the laughable action, inane logic, and silly villains. There are a number of scenes that the villains have the chance to kill Slaughter, but they then develop an idea that they can kick his butt which back fires. It is all pretty tiring, but I did not mind it this time and is definitely better some really awful films like Black Belt Jones or Sugar Hill. Plus, this film may have been shot in Mexico, so there are some pretty chicas in this film and you cannot go wrong with that.
Jose Montoya
½
Unlike 80s hair metal "legend" Mark Slaughter, this Slaughter lives up to his name as Jim Brown sure knocks some dicks in the dirt in this high octane, James Bond influenced Blaxploitation effort. Slaughter, an ex Green Beret, is POed as some assholes blew up his daddy's car with his daddy in it. He heads out for vengeance and guns down a few of the dickheads at a small airport but not without pissing off some federal agents who spent months tracking these drug dealers down. In order not to get thrown into prison, Slaughter agrees to go to South America to take the drug cartel down while at the same time satisfying his hunger for vengeance. Ex-pro football player Jim Brown first got some acting chops in tough guy films like "The Dirty Dozen" before branching out and becoming a Blaxploitation icon. Does this mean he's a good actor? Hell no but he, much like the other ex-pro football player turned actor Fred Williamson, fit these roles perfectly making for some major touch guy icons as well as providing interesting film heroes for the black community. Unlike Fred Williamson whose characters were always cocky and mouthy, Jim Brown's were always quieter, more repressed without losing the tough-as-nails edge. Slaughter is exactly this... mostly quiet but a tough mother-fucker who without flinching will shoot a guy in the back or chase them down with a car. Seriously this guy is one mean dude! And he seems like such a nice guy on the outside... The filmmakers inject a lot of James Bond influences into the picture to with Slaughter basically acting as a secret agent. He goes to high rolling casinos attired in a tux, wins over villain's woman by bedding them, and most importantly can handle himself when it comes to action scenes, including but not limited to hand-to-hand combat and high speed chases. The directing for the most part is solid with Jack Starrett knowing how to handle action scenes with a sure hand (he proved that again with "Race with the Devil). The only thing I questioned was his use of some odd squished picture ratios in his action scenes. I'm sure it was an attempt to be stylistic but it just takes you out of the movie for a moment making some think there DVD disc might be defective. Is "Slaughter" a terrific film to be remembered for all the ages? Well no but it does what it intends to do.. provide audiences with an action packed Blaxploitation vehicle for Jim Brown with a heaping dose of sheer awesomeness. I enjoyed "Slaughter" immensely and am highly looking forward to watching its sequel "Slaughter's Big Rip-off".
Eric Reifschneider
Slaughter Quotes
There are no approved quotes yet for this movie.