The Toolbox Murders
(1978)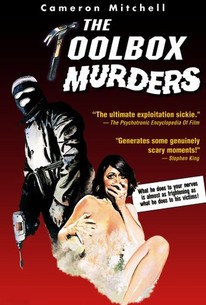 Movie Info
After a tense, bloody beginning, The Toolbox Murders takes a turn first into TV movie-style suspense and then stumbles towards an incredibly silly conclusion. Despite a sensational reputation amongst splatter fans (including Stephen King, who provides a promotional blurb for the video release's packaging) the only gore occurs within the first 30 minutes, as a ski-masked maniac cuts a bloody swath through an apartment complex. Four attractive young women are dispatched in harrowing style with a variety of power tools, indicating a killer taking extreme sadistic pleasure in his work. It's no surprise when the apartment owner (Cameron Mitchell) is revealed to be the monster, but his claims of putting the "dirty" women out of their misery quickly doesn't jive with what's been presented earlier. He murders in order to avenge the unrelated car accident death of his only daughter, and to this end, kidnaps a virginal 15- year-old girl to replace her. Unfortunately, his nephew is also fixated on the dead girl, and has his own obsessions. Director Dennis Donnelly did most of his work in TV, thus the preponderance of familiar television faces on display: his brother Timothy Donnelly from Emergency!, Wesley Eure from Saturday morning's Land of the Lost, and Pamelyn Ferdin, a '70s sitcom perennial with many guest shots including The Brady Bunch and The Odd Couple. The incongruity of these appearances, along with the clumsily expressed psychosis of the villains, destroys any sense of dread created at the outset of The Toolbox Murders, and as a result, the only enjoyment that can be obtained from the film is ultimately derisive.
Critic Reviews for The Toolbox Murders
Audience Reviews for The Toolbox Murders
The Toolbox Murders which was released in 1979 is a pretty good little Slasher film depicting a maniac wearing a ski mask killing people with the contents of a toolbox. The film manages to be one of the most depraved Slashers to come out in the late 1970's. This film is viewed by many as the definitive exploitation film, and is crafted to appeal to gore hounds and fans of extreme horror films. Although the film lacks in effective storytelling, it delivers in good kills and effective special effects that add something special to the viewing experience of this film. If you love sleazy horror films, then check this film out, this film tends to be quite entertaining despite its flaws, but towards the end suffers a bit because of a poorly thought out ending. Despite this, the film has some pretty cool kills and with a film like this, that's all you should care about. The direction is uneven and suffers from a lack of a truly good story. The film is good, but it could have been much better too. Towards the ending the film struggles to find a good ending and it leaves the viewer wanting more out of the film. As a whole, this film works better as a straight up gore Slasher flick, which it is, but leaves a lot to the horror fan looking for a well layered movie that tells a compelling story with effective kills. Toolbox Murders boasts some great kills, but lacks in a truly compelling story. If you're looking for a mindless Slasher, you'll find it here otherwise you'll be sadly disappointed. Nonetheless this flick is still a necessary viewing for fans of Exploitation horror and cheesy Slasher films in general.
Supposedly fact-based slasher about a disturbed handyman grieving the loss of his 'perfect daughter' who murders his way through the 'immoral' young women who live in the apartment building he maintains. This 'video nasty' is nasty for the first 20 minutes but after that the story plods along without much to scream or squirm about... but that's not to say it's a bad film. After the moderately bloody killings of scantily clad young pretty things early on, the demented porter kidnaps a candidate to replace his beloved daughter and you get into the mind of the nutty villain who's played quite well by Cameron Mitchell. And there's also an unexpected twist at the end so the film ends quite strongly. It's not as shocking as it was hyped up to be, but it's decent and watchable enough.
½
Unfairly treated I would say. There's a lot of problems in this film, most notably the acting, but there is also a lot to appreciate. The pacing is different from most slasher films of the day in being that most of the killing takes place very early on. It works rather nicely as after that the focus can shift onto the mystery of it all. In another rather original turn the killer is revealed to just the audience about half-way through and turns it into a more personal movie about the killer. Overall though the acting just really brings it down, with a laughable reaction to a vibrator being the highlight of the film. The music however is excellent and deserves to be used in something of higher standards. From the instrumentals to the original songs used to incredible effect in the murder scenes it really was quite shocking how something so good could exist in an exploitative slasher film. Beware however you must also venture through a sea of stupid cops and a brain dead brother trying to find his lost sister.
Luke Baldock
Super Reviewer
The Toolbox Murders Quotes
There are no approved quotes yet for this movie.