Tourist Trap
(1979)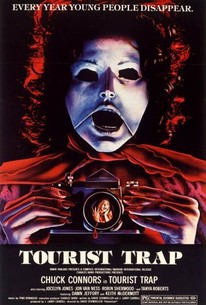 AUDIENCE SCORE
Critic Consensus: No consensus yet.
Movie Info
In this horror outing, a seemingly abandoned desert gas station turns out to be a grotesque museum filled with murderous mannequins who come to life when visitors come to call. The ill-fated "guests" are lured in by a strange siren's song.
Critic Reviews for Tourist Trap
All Critics (3) | Fresh (0) | Rotten (3) | DVD (2)
A limp 70s horror entry from mannequin meister David Schmoeller (the "Puppet Master" series).
Even though the pic couldn't be dumber or more senseless, for some it might have some appeal because of its oddness.
Unless you have a severe phobia of mannequins, you'd best be looking for your cheap scares a little further on down the road.
Audience Reviews for Tourist Trap
Borrowing elements from 'Texas Chainsaw Massacre' (the transvestite villain) and 'House of Wax', 1979's 'Tourist Trap' is wholly derivative but it is also one of the most unsettling horror flicks I've seen in many a moon. The usual cliches are recycled throughout from the car-that-won't-start trope to the flat tire to the skinny-dipping scene (however, being that is slapped with a PG rating, no nubile flesh is shown). It can't be denied that the atmosphere is thick with dread whenever the lifelike mannequins are inside the frame. Just the shot of peripheral eye movement from one puppet is a hair-raising moment. Once they begin to cackle with their mouths agape, it is a severely unnerving pantomime. A duality twist about the abductor's identity near the denouement is sensible from a logistical point-of-view. The syncopated sound mixing for the snortling Davey is quite disturbing. Sometimes the tenor swings too far towards the farcical side with a telekinetic Davey sharing a meal of soup with one of his autonomous figurines and the characters' actions are loathsomely stupid (splitting off in separate directions, exploring further when they hear ominous moans, etc.). Regardless of those shortcomings,'Tourist Trap' is a skin-crawling diamond in the rough that deserves more praise heaped upon it.
Cory Taylor
Super Reviewer
½
A truly unique concept for a Slasher film, Tourist Trap directed by David Schmoeller (Puppet Master) is a tense, creepy and very well done film. Unlike many Slasher films that came after it, this film has barely any gore, and uses suspense to build up the chills and tension. Add to that the killer's mannequins, which are very eerie, and add so much dread to the overall tone of the film. The story itself is fairly simple, but the filmmakers know how to pull off something effectively entertaining by having the killer play a cat and mouse game with his victims. The standout of the film is Chuck Connors as Slaussen, the owner of the museum, and who is perfect as the films villain. Slaussen turns his victims into mannequins for his museum. This is a terrific, obscured gem of late 70's horror. This is a nightmarish film, and it leaves on the edge of your seat. The mannequins are a key component in delivering the chills and David Schmoeller keeps the ball rolling as the elements unfold before the unsuspecting viewer. The beauty part about Tourist Trap is that, it doesn't rely on logic, and you never know what to expect. Everything is a surprise, and this is what separates this Slasher film from the rest. Tourist Trap is a truly satisfying horror gem that every horror fan should check out. This is definitely David Schmoeller's best film, as Puppet Master lacked in terms of effective scares and engaging story. Tourist Trap is a memorable film, and one of the standouts in the genre. This has plenty of bits from previous horror works, which I won't spoil, but it plays out beautifully for a very imaginative horror experience.
½
Late 70s slasher all set in a mannequin museum where four unlucky friends find themselves preyed upon by the psychotic owner. What this one lacks in gore and sleaze it makes up for in sheer creepiness! There's some real spine-tingling moments with the mannequins being used very effectively. Unfortunately the pace drops too often in between the shocks and I did find myself a little bored at times. I do prefer my slashers to be accompanied by good bloody death scenes but the kills in this are very tame, but they still have a creepy quality to them. Chuck Conners does very well in his role and is very menacing indeed. This one is definitely for those who prefer atmosphere over non-stop carnage.
Tourist Trap Quotes
There are no approved quotes yet for this movie.