Ulysses
(1967)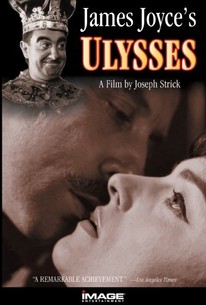 Movie Info
Based on the classic novel by James Joyce, this drama deals with the life of an impotent married Jewish man, his wife, and a student/poet in Dublin. Focusing more upon the characters' thoughts and fantasies than upon their actions, it features some of Joyce's previously banned prose.
Rating:
NR
Genre:
, ,
Directed By:
Written By:
In Theaters:
On DVD:
Runtime:
Studio:
Reality Productions
Critic Reviews for Ulysses
Audience Reviews for Ulysses
½
Having read and studied this novel for my English Literature course, I was looking forward to watching its film adaptation. The end result left me feeling a little ambivalent. I felt that the film did very well in capturing the stream-of-consciousness present in Joyce's original text. Like its source material, Ulysses is a film that demands your full attention. If you look away for even a second then you're lost. The narrative constantly jumps around. This isn't an insult to the film, but rather a portrayal of Joyce's writing style. Ulysses as a text jumps from idea to idea, from writing style to writing style. It is a difficult text to read, but a rewarding one. And so is the film, although I was disappointed at how the film watered down some of the book's more explicit scenes. I felt that THIS was an insult to Joyce to wanted to push the boundaries of anything that came before. Read my full review for more: http://goo.gl/WGkf16
James Linton
...What on earth did I just watch? I have a relaxation thing I do when I'm trying to go to sleep: I listen to an audio dramatization of something or other. As I listen, I create mental pictures of the scenario being acted out, but make everything as ridiculously literal as possible. If one of the characters tells the other, "You're like a lion," I adjust my mental image to make that person a literal lion. This engages my brain just enough that I don't wander off and start obsessing about my day (which is what keeps me awake the most at night) but not enough that I stay focused on it, and I drift off to sleep. Watching this movie was surreal, because that was what happened. Every metaphor was shown to us in literal form on the screen, especially once it hit the section with the hallucinations/dreams/whatever the heck those were. But what is a relaxing mental exercise in my mind is creepy and bizarre and awkward to follow visually in a movie. That point is when the movie lost me. I was mildly interested in the story up until that point, and then I got almost 30 minutes of rambling dream sequence. That finally ended, but the movie never really won back my trust or my interest.
Hannah Megill
And I thought that nothing would turn me off marriage more than Who's Afraid of Virginia Woolf?... I haven't read all of Ulysses yet, but any attempt to film it is quite audacious. The movie succeeds at its own level, and reminds me of 8 1/2 in several stylistic ways. BTW, Flixster's synopsis may be the worst ever.
Adam Roberts
Ulysses Quotes
There are no approved quotes yet for this movie.
Discussion Forum
Discuss Ulysses on our Movie forum!