Eye of the Beholder
(2000)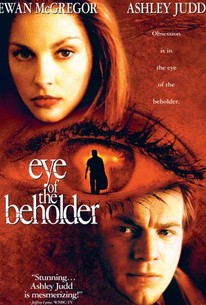 Eye of the Beholder Photos
Movie Info
Part high-tech spy thriller and part psychological study, Eye of the Beholder was Ewan McGregor's first feature film following his mainstream breakthrough performance in Star Wars Episode I: The Phantom Menace. The Eye (Ewan McGregor) is an agent of the British Secret Service, equipped with the latest in high-tech crime fighting gadgetry and assisted by his indefatigable collegue, Hilary (k.d. lang). The Eye's latest assignment is a surveillance project; the son of a well-known politician has been spending a great deal of money on someone, and they would like to know who and why. A little sleuthing reveals that the mysterious person taking the cash is a woman named Joanna (Ashley Judd), but the trail gets much stickier when the Eye witnesses Joanna pulling a knife and killing the politician's son. Normally, he'd take the shortcut to putting her behind bars, but some time ago he lost contact with his daughter when his wife left him; Joanna reminds the Eye of his daughter, and he's too fascinated with her to bring her to justice. The Eye now follows Joanna obsessively, and discovers that she's also involved with a blind man (Patrick Bergin) and has a history of emotional instability from being abandoned by her father at a young age. Eye of the Beholder was directed by Stephan Elliott, best known for the comedy The Adventures of Priscilla, Queen of the Desert.
People Who Like this movie also like
News & Interviews for Eye of the Beholder
Critic Reviews for Eye of the Beholder
Audience Reviews for Eye of the Beholder
Directed by Stephen Elliott, Destination Films, 1999, Ewan McGregor, Ashley Judd, Patrick Bergin, k.d. Lang and Genevieve Bujold. Genre: Drama, Mystery, Thriller. Question: Can a man fall in love with a woman that he's never met, spoken to or doesn't even know her real name? Well, in the Eye of the Beholder, they try and answer that question. A friend who knows I adore Ewan McGregor told me about this movie. I hadn't heard of it before and was curious to see it. Alright, I see everything he is in, you all know that by now, right? Anyway, I put it on my Netflix queue a few weeks ago and it arrived on Tuesday. I didn't get a chance to see it that night - although I really, really wanted to. So today before I had to pick up the kids from camp I popped it in. This is a story about redemption, a thriller, and a love story but not necessarily in that order. Yes, I know what it says above but this is what I saw in this film (Eye of the Beholder, people). I saw a man and a woman who are both so alone, scared and with thoughts of such tremendous loss that they might be a little insane. Okay, one might be more insane than the other. But as the story unfolds I don't think either are really crazy - just lonely and trying to gain some stability in their lives. When people see themselves in someone else who has experienced similar tragedies/heartaches/loss it can be a very powerful attraction. Is that love? Perhaps. Or is it something else completely? And can it have a happy ending? Well, I am not going to answer that - you'll just have to see for yourself. I really don't want to give anything away about this movie because it was lovely to see a film that I knew nothing about. But I have to entice you guys, right? Ewan looks cute, of course, and Ashley Judd is quite attractive but what impressed me the most were their performances. How does one portray such sadness, desperation to find something secure or recapture what they lost especially when there isn't a tremendous amount of dialogue? Well, both of the actors did - and did it quite well. Another reason to see this film is that it is untainted with a typical Hollywood ending. That alone would make me see any movie. Lastly, to me, Eye of the Beholder said something about real life - not so much what the characters said but they way they behaved. Behavior is thought to be a reaction of or to something. In acting reaction is the essence of the medium but can be written totally out of whack of real life. They say: For every action there is an equal and opposite reaction. And for the two characters, played by Ewan McGregor and Ashley Judd, the force between them, even though they hardly shared many moments together, evoked that law of physics stunningly. There was one song that played when they first met, so to speak, that gave me goosebumps - It is sung by Chrissie Hynde. "I Wish You Love" - and that pretty much sums it all up for me. Here is the song and a really, really good way to do a trailer! Favorite thing: Don't be shocked by this - Ashley Judd. Yes, I still thought he was good! My least favorite thing: In some scenes the costumes for the extras looked like it was supposed to be 1972 not present day. Rating: R Length: 109 minutes Review: 8 out of 10
Tired of Previews
Super Reviewer
Curious tale, a cross-country Rear Window if you can imagine that, about a surveillance agent who obsesses about a woman he's tailing. It's s weird but also somehow mesmerizing.
Kevin M. Williams
Super Reviewer
Superb... dark and disturbing... beautiful and entertaining... chilling, emotional and thrill-packed between Ewan McGregor and Ashley Judd on their journeys around USA. Stephen Elliott's considerable skills as a filmmaker ensuring that this very classy thriller is not only exciting visually but also bold and original.
Dean McKenna
Super Reviewer
Eye of the Beholder Quotes