Bollywood Queen
(2003)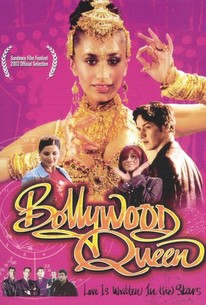 Movie Info
A half-parody and half-loving tribute to the over-the-top style of Indian musicals, this song-and-dance-filled musical comedy-drama concerns Geena (Preeya Kalidas), a pretty and virtuous young women who has been raised by a loving but strictly traditional Indian family. One day, Geena happens to meet a charming and footloose visiting Englishmen named Jay (James MacAvoy), and it's love at first sight for the both of them. However, Geena's family does not approve of her dating a relative stranger, and as her brothers keep an eye on her every move, Geena is forced to meet Jay on the sly. Before long, she impulsively leaves for England with him, with her family giving chase. Along the way, the story stops periodically to give the characters the opportunity to burst into song, though along with the expected Hindi pop tunes, the characters let loose with blues, folk, and roots rock compositions. Bollywood Queen was screened in competition at the 2003 Sundance Film Festival.
Critic Reviews for Bollywood Queen
Audience Reviews for Bollywood Queen
½
The world does not need another Romeo and Juliet adaptation, and the bollywood style of singing and dancing is not for me. However, James McAvoy is always a treat.
Bollywood Queen Quotes
There are no approved quotes yet for this movie.