Reflections of Evil
(2002)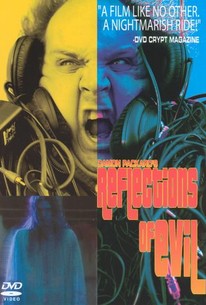 AUDIENCE SCORE
Critic Consensus: No consensus yet.
Reflections of Evil Photos
Movie Info
Cult filmmaker Damon Packard wrote, directed, and stars in this bizarre independent feature about a sugar addict obese watch seller. Packard plays Bob, a man whose penchant for sweets is threatening to send him to an early grave. His dead sister's ghost attempts to help him while he seeks out a mysterious woman he saw in a vision. The legendary Tony Curtis narrates.
Rating:
NR
Genre:
, , ,
Directed By:
Written By:
In Theaters:
On DVD:
Runtime:
Critic Reviews for Reflections of Evil
All Critics (3) | Fresh (3) | Rotten (0) | DVD (2)
Reflections of Evil is a work of stunted genius...[the] effort of a freaked-out filmmaker overdosing on '70s TV, horror anthologies, and a...lack of psychotropic drugs.

Audience Reviews for Reflections of Evil
If you're expecting high production values and great acting this is not the film for you. However, if you appreciate 'guerrilla' style film-making then this film is tremendously entertaining.
Cameron Wayzata
½
EVIL HANGOVER This is a continuation of a discussion on Reflections of Evil, one of many films that Marjorie and I screened at the 2008 Nashville Film Festival. This post is my extremely belated response to her reaction to the film. I feel like I have just barely scratched the surface of the film in my post here, so make sure you read her post as well. Hell, she's practically a pro at this film review stuff. The Ravonettes new album, Lust, Lust, Lust was playing over the car stereo. Marjorie and I had previously both been enjoying it. But now it somehow sounded, felt different. I turned it down. I didn't want my brain associating that music with whatever it was that I had just seen and the emotions that it was causing me to feel. We [attempted to] continue our normal post-film discussion. But it soon came to a screeching halt when Marjorie finally sort of just gave out--her head in her hands, she was in tears. I was surprised. I mean, it's not exactly routine for a film to elicit that sort of response from her. Perhaps I should have been prepared. About five minutes into Damon Packard's Reflections of Evil, she leaned over to me and said, "Two hours of this? I'm not sure if I can take it." We had already witnessed what is probably the most prolific vomit scene in the history of cinema as well as what was just the very, very (very) beginning of people screaming at each other over a deafening, sporadic and masterfully horrific wall of sound and screams. Much of the film concentrates on Bobby, an insane, obese character that roams the streets of Los Angeles trying to sell cheap watches to anyone who isn't interested. Every interaction that he has with other people/dogs/food/tables/chairs/cars is violent, horrific, loud--courtesy of a relentless soundtrack of hysteria and noise. Every person he talks to fiercely shushes him away and pushes him back into isolation to shuffle along into his next violent confrontation with random street people, each conversation ending, beginning or only consisting of 'I'll fucking kill you!' It comes packaged as sort of a faux-70's Movie of the Week from hell, featuring real ABC intros, commercials and show clips--all pirated of course. And that is just part of the so-called story line. There is also a dead sister roaming the afterlife (empty streets of L.A.), a hilarious lampooning of a 'young' Spielberg, a pirated intro to some TV movie from Tony Curtis that is comically dubbed over at just the right moments and also a 70's love-in led by a drug guru-musical type thing. And a Schindler's List theme park ride. Like I said. Indescribable. Yes, its sort of all over the place. But as it roams, practically plotless, it's horrific. Terrifying. Some of the most haunting images and sequences that I have ever seen can be found in the sprawling, rambling 2 hours of insanity. And as 9/11 occurred during film making, Packard didn't miss the opportunity to channel post-9/11 hysteria directly into the film. Just as jarring are moments of (sometimes juvenile, crude and ridiculous) hilarity butting up against the paranoia and terror which makes the whole thing all the more unsettling. Attempting to summarize Reflections of Evil or even describe it in any way is just simply impossible. But I guess I would say it is really the only true horror film I've ever seen. It is the most horrific, terrifying, paranoid, relentless 2 hours that you can imagine. Think Retro B-movie nightmare, Lynch on Acid, Acid on Acid, (okay, I've never done acid). But when I mention horror film--it shouldn't be mistaken for fun or entertainment like most horror films. There are no knife wielding masked murder types chasing teenagers or jump-scares. There isn't really even a plot. The horrific part of this film is much more devastating. It is the relentless noise, its the inescapable hopelessness, its the nauseating soundtrack, its the visceral hate--they bombard the viewer. Bombard is a good description. Marjorie mentioned to me feeling trapped in the theatre, like she was forced to take in all of Damon Packard's packaged negativity. Trapped. Forced to watch (i.e. Clockwork Orange). Seeing and hearing Marjorie's strong reaction to the film made me realize something. Most of the reviews that I read on Reflections of Evil referenced the fact that they had screened the DVD (Mr.Packard, sans distribution, took to guerrilla distribution) in the privacy of their own homes. One review wrote, " you don't know whether to laugh, cry, or just shut the goddamn DVD player off." So I realized, that since this film was never released, we were some of the few people to actually screen this film in the theatre. And watching this film in the theatre would be a greatly different experience than one would get in watching on a tiny TV screen at home. In the theatre there is no escape from the unrelenting sound of the movie. There isn't even a pause button to allow you to just take a breath and give your brain a respite. Every time Bobby moves you hear what seems to be the sound of him dragging pounds of junk with him. The vomitous, spewing sounds help to make even the most innocent of images on the screens seem nauseating. The unrelenting screaming, yelling, the constant barrage of noise and rage . . .the film critics who screened this in the privacy of their own home can take a break from the madness whenever they chose. And some of them even recommend it. Another review I read suggested that viewers not bother with closely screening the entire film. Instead just, "go about your daily routine and come back at the precise moment when humor is released." This made me wonder--would these same critics who wrote positive reviews of the film do so if they had seen it in a theatre . . . for two hours . . . continuously bombarded. Perhaps not. Then again, I am very glad I saw the film and saw it in the theatre. It is certainly an amazing experience. Like nothing else. Reflections is certainly a unique and brilliant work of art--though it may be the most unpleasant one I've ever experienced. I noticed that some of the humorous moments that I laughed at early on in the film didn't elicit laughter (for me anyway) as much late in the film. I think I was just worn out, exhausted. Almost felt like I couldn't find it in me to laugh anymore. For me, that was the most fascinating part of the film--its ability to affect my own psyche so deeply (and deceptively). The day after the film I had a wave of depressed feelings wash over me, much similar to ones that I might experience after having way too much to drink the night before. Its not that I was so terrified that images from the film were running through my head. I'm probably way too desensitized for that. It was that, for a period of time after watching the film, normal life felt awful, hopeless, depressing, nasty. Even the Ravonettes became unpleasant. I felt like my mind was, "bombarded," by vague, unpleasant thoughts and feelings the next day. I did--I had a hangover from the film. Some people may hate this film, even go so far as to call it amoral. Well, I won't argue with someone else's reaction to a film, especially one as crazy and unpleasant as this one. But I would imagine that even they would have to admit--like it or not--this has to be one of the most powerful (if just overpowering) films ever made. And that makes Packard's experiment known as Reflections of Evil a success. At least on some level. cross posted at http://jonathanbelcher.blogspot.com/2008/04/evil-hangover.html
Jonathan Belcher
The movie is a shapeless melange of ideas, every one of them run into the ground, but Packard's vision of mass-media purgatory is defiantly personal. Like the film's main character, much of what is recommendable is overwhelmed by overindulgence.
Lee Mayo
Reflections of Evil Quotes
There are no approved quotes yet for this movie.