Proud American
(2008)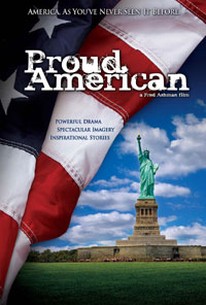 Movie Info
As conceived, written, directed, and produced by Fred Ashman, this unabashedly patriotic, flag-waving film celebrates Americana and the elements of the United States that make it a unique and dynamic country -- from its ethnic, religious, and ideological tolerance to its peerless emphasis on educational opportunity. In addition to featuring picturesque American scenery and patriotic music on the soundtrack, the film interweaves five dramatic vignettes, each relaying the story of an extraordinary American citizen. The cast includes Marc McClure (Superman: The Movie), James B. Sikking (Made of Honor), Ken Howard (In Her Shoes), and Yakov Smirnoff (Brewster's Millions).
Critic Reviews for Proud American
Audience Reviews for Proud American
"Proud American" is a curiosity of a film that is not a feature and yet not quite a documentary, but it is all awful and left me scratching my head. Where did it come from, who made it and why, and what did Walmart have to do with it? Like I didn't already have enough reasons to hate Walmart. The film is filled with horribly acted and written vignettes celebrating the American spirit, broken up with ridiculous musical montages that left me howling with laughter. The acting and writing are on par with a LIfetime movie of the week, and there were some winners that stood out from the pack. I especially loved the story of the poor little Vietnamese girl who comes to America, learns English, wins new friends by graduating high school and opens her own software company. It's just one of many true stories that fill this insufferable picture, but you're left wondering just what the point is. There must have been a hundred better ways to rejoice in all the great things abut this country. The video quality is on par with your average TV movie, and how it made it to theaters, even for just a week, may be the biggest mystery of all. The time creeps by and eventually you're so bored that the laughs dry up and you're left with nothing. I felt more patriotic watching "In the Army Now", but this film is funnier. It's not un-American hating "Proud American". You're only doing what comes naturally. It's a one-of-a-kind picture, and in this case, that's definitely not a compliment. The songs are atrocious, and the acting is worse.
Timothy Sanders
Saw this film, and can't wait to see the Imax release...its a family film, but up lifting which is really refreshing.
Katherine Wolfer
½
While admittedly syrupy at times, Proud American covers stories that do capture the American spirit and can serve to remind us all that we have much to be grateful for. The fact that the actors are largely newcomers adds to the freshness of the film. Watch this with a loved one and especially your children. Feel good films are just what we need sometimes!
Greg Donahoe
Proud American Quotes
There are no approved quotes yet for this movie.
Discussion Forum
Discuss Proud American on our Movie forum!